Dr Hutch: 'Don't give up mate, you can do it'
Pulling out of a marathon has its compensations, the Doc finds, when even a cynic like Bernard acknowledges his cycling ability... almost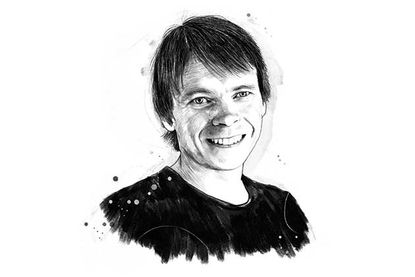 As you may recall, I was planning to be unfaithful to cycling and run the Virgin Money London Marathon. Well, it went splendidly, up to a point. That point was the 15-mile banner, where every tendon in my right hip gave up simultaneously, and everything turned to soup.
As I hobbled along trying to find a way through the crowd barriers and off the course, people kept saying, "Don't give up mate, you can do it." While well meant, when you're not the kind of fool who might try to hop 11 miles this is actually very annoying.
So it was almost a relief when I was reunited with my phone and discovered a long series of messages from my friend Bernard, who I was quickly able to surmise had been following my progress via the Marathon app, and had been heartbroken at my disappearance from the screen. "Ha, ha, ha," said the first text. So did the second and third ones.
"The only reason a cyclist should ever run," he explained a few days later over a cup of tea, "is if his or her bike is in the process of being stolen. Even then, you need to assess whether the thief is fat enough that you might actually catch them on foot.
>>> Dr Hutch: Climbs at the end of time trials are a cruel prank
"And also, the other rule is that you don't run unless the value of the bike outweighs the humiliating possibility of someone seeing you clod-hopping along after it shouting, 'Stop, thief!'
"For someone with your knock-kneed, elbows-out running style, the bike valuable enough to chase has yet to be built."
"Although," he continued, "there has been something inspiring about your running."
"That's not the impression you've been giving me up till now," I said.
"Oh, yes. To see someone put that much time and effort into something they are so unremittingly terrible at is quite something to watch."
I told him I thought that was a bit harsh. "Not really," he replied. "Supposing you'd run the second half of the Marathon as fast as the first — not for a second that I think you could have done that — where would you have finished?"
"Based on last year, about 2,000th," I said.
"Gosh. 2,000th. That would make anyone proud," he said. He then fanned himself sarcastically.
"Oh, come on. There are 40,000 runners in the race," I said.
"Yes, and 37,999 of them are dressed as Wombles," said Bernard.
I'd have got up and walked off, but having wrecked my hip running, I'm on crutches, and limping out of the cafe like
a pound-shop Long John Silver wasn't going to create the desired effect.
"The thing is, if you put that much effort into cycling, you'd actually be quite good," said Bernard. "I mean, you have, in the reasonably recent past, been not quite absolutely appalling on a bike. Just about. Almost."
This was a new experience to me. I know how much Bernard disapproves of running in general and my running in particular, but he's never been as desperate before to offer up any sort of compliment about my cycling.
"Watching your running career is like reading one of those children's books where an elephant takes up ballet. It's funny for eight pages, but you wouldn't want to have to go and watch an actual elephant ballet."
>>> Dr Hutch: 'The attacks in a race come in order of confidence'
I suddenly remembered last summer's RideLondon. I spent the first few miles neatly tucked in behind ex-England rugby international Martin Johnson. He was very fast on the flat, provided an awesome wind-break, but went uphill like a bollard. (Sorry, Mr Johnson.)
And what did I think? I thought, "If you're that good at rugby, why would you want to come and do this?" Thanks to Bernard, I'll never look at Johnson again without seeing an elephant in a tutu.
"I think," said Bernard, "that it's time you came home."
Thank you for reading 5 articles this month* Join now for unlimited access
Enjoy your first month for just £1 / $1 / €1
*Read 5 free articles per month without a subscription
Join now for unlimited access
Try first month for just £1 / $1 / €1
Michael Hutchinson is a writer, journalist and former professional cyclist. As a rider he won multiple national titles in both Britain and Ireland and competed at the World Championships and the Commonwealth Games. He was a three-time Brompton folding-bike World Champion, and once hit 73 mph riding down a hill in Wales. His Dr Hutch columns appears in every issue of Cycling Weekly magazine
As a writer, he wrote the award winning The Hour about his attempt on the sport's most famous and sought-after record. He followed that up with Faster, about the training, the science the genetics and the luck behind the world's fastest riders, and Re:Cyclists, a history of cyclists from 1816 to the present day.
He's written for outlets ranging from Cycling Weekly to the New York Times, and has presented and and commentated for the BBC, Eurosport, Channel 4, and Sky Sports.
Before he did any of that he was a legal academic at Cambridge and Sussex universities. He now lives with far too many bicycles in London and Cambridgeshire.