Snow time to get the miles in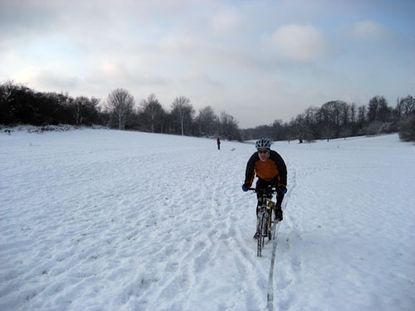 Don't panic, that's my advice. The first big sportive of 2010 is just a couple of weekends away and the Perf's Pedal Race kicks off the road season in a month's time, so I'm not surprised many of you are getting more than a little jittery on account of the big freeze.
It's certainly frustrating not being able to get out as normal, but there's no point taking unnecessary risks. It's far better to go into your first events lacking form than taking a tumble and spending months injured.
You can always spend an hour or so on the turbo and when you get bored staring at the inside of the garage shutter you can get out and play in the snow on your 'cross or mountain bike. There's plenty of fun to be had messing around off-road and although it's no substitute for road miles there's much less risk and you just don't get as cold.
We only get such severe conditions once a decade or so and it makes me appreciate our normally mild climate. And it's not just us. Even those who have managed to beat the snow and ice to fly out of the UK have been trated to similar conditions on the Mediterranean.
The good news is that we should be able to get out at the weekend with forecasters predicting temperatures of 5 degrees centigrade. I can't wait.
Robert Garbutt is editor of Cycling Weekly
Related links
Cycling in the snow: Your photos
Thank you for reading 10 articles this month* Join now for unlimited access
Enjoy your first month for just £1 / $1 / €1
*Read 5 free articles per month without a subscription
Join now for unlimited access
Try first month for just £1 / $1 / €1