Craig wins 2011 Three Peaks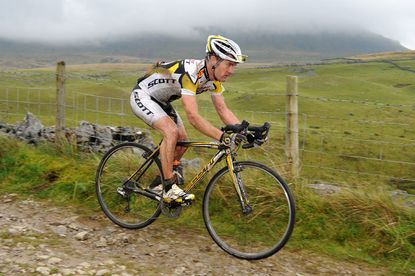 Three Peaks 2011 photo gallery by Andy Jones>>
Nick Craig (Scott UK) won Sunday's 49th edition of the Three Peaks Cyclo-Cross with Louise Robinson (Stourbridge CC) taking the women's crown.
A record number of riders set out from Helwith Bridge to tackle the tough 61km course taking in the peaks of Ingleborough, Whernside and Pen-y-Ghent on Sunday. The field though did not include eight time winner and defending champion Rob Jebb (Wheelbase.co.uk Cannondale) who was sidelined following recent surgery to a troublsome right shoulder injury.
Low cloud and rain greeted the riders as they tackled the first ascent up Simon Fell towards Ingleborough and it was national cyclo-cross champion Paul Oldham (Hope Factory Racing)who headed the field at this point with Nick Craig (Scott UK), Dan Whitehead (Bike Station Ballater/Team Ardvark), Neal Crampton (Crosstrax), Andy Peace (Crosstrax) and Ian Taylor (Craven Energy Tri) close behind.
Over the Ingleborough checkpoint it was Whitehead who led from Craig, Crampton, Peace, Taylor and Oldham as the race started to take shape. After the descent off Ingleborough, these lead riders regrouped and worked together along the road section towards Chapel-Le-Dale and the approach to Whernside.
Going over Whernside, Craig started to edge ahead and by the road section to Pen-y-Ghent had a lead of around 50 seconds which was being closed down by a hard chasing Oldham. Skies were by now brightening as the riders tackled the final climb of Pen-Y-Ghent.
Craig still held his advantage here over Oldham who seemed to start paying for his earlier efforts and was passed by Crampton just before the final summit checkpoint. With just the descent of Pen-Y-Ghent and the short road section to the Helwith Bridge finish, Craig consolidated his advantage finishing in 3:08:47 for this third Peaks title with Crompton following in four minutes later and Oldham close behind.
Louise Robinson (Stourbridge CC) put in a sterling ride to take her fifth win in this event and was just a handful of minutes off her own course record of 3-39-33 despite the heavy conditions. Team-mate Isla Rowntree came in second with defending champion Rene Saxton (Otley AC) completing the podium positions.
Thomas Armstrong (Wheelbase.co.uk Cannondale) took the junior title and broke the junior course record of 3-43-43 set by Matthew Lee in 2003 with a time of 3-36-53.
Nick Craig's win in his own words
Craig gave his take on the race to Cycling Weekly in the finish area.
"Paul (Oldham) and Dave (Collins) did attack as they came off the road to the first climb. I didn't panic I just thought there's a long way to go yet.
Craig gave his take on the race to Cycling Weekly in the finish area."I can walk quite well, I'm not a runner but I can walk alright and I was in good company with Dan Whitehead an old MTBing buddy of mine who's a very good fell runner. We caught back up and got on with it.
"But it was really interesting over the top as it all came back together and Ian Taylor did a fantastic descent, so we got on the road and we had a nice little chain gang going over to Whernside. I got to the front and thought I'd have a walk up it and see if I can get the prime, not that the prime is the thing to get, but I thought I'd have a walk off and see if I could get a bit of a gap to stay away from Ian Taylor.
"It was actually Taylor who was second off Whernside and he was only about 20 seconds behind me. I hit the road section and there was a head wind. I didn't wait for him and I rode to Horton-in-Ribblesdale on my own, probably with the race in tatters behind and not really knowing where Paul Oldham was.
"Paul was closing in I think because as I hit Pen-Y-Ghent and I turned off Pen-Y-Ghent Lane I looked round and someone said Paul Oldham is at 50 seconds. He'd closed it that much and I never saw him. I thought if I can get to the point on the main hill there where I get off and walk, I could walk away from him again. That was the plan. Luckily for me he'd gone a bit too hard on the road and I think he blew a bit and that was it really, I won.
"Obviously without Jebby racing it was a different kind of race. I'm sure he would have liked the conditions today but you have to be in it to win it as they say. I'm sure he'll be back next year for the 50th. I'll be back as well."
Robinson returns after six years
It was Robinson's first Three Peaks after a break of six years as she told Cycling Weekly after the race.
"It was a bit strange at first as the last time I did the race in 2005 there were separate starts. So this year was a bit scary on the road to be fair with that many riders and with the cars coming the opposite way and stuff. It was a bit stressful really.
"That's my fifth time riding the event. I was really shocked at how fast we went round today with the conditions as I was five minutes off the record. The conditions have never been like that for me before, it's always been really dry. Coming off Ingleborough was quite sketchy in places if you got the wrong line. I saw people going over the handlebars so I thought I won't be going that way then.
"I just paced myself really and with knowing a little of what to expect helped. I didn't feel to be going up the hills very fast but I felt stronger on the road sections as I'm getting older."
Results

49th Three Peaks Cyclo Cross 2011

Men

1. Nick Craig (Scott UK) in 3-08-47
2. Neal Crampton (Crosstrax) 3-12-00
3. Paul Oldham (Hope Factory Racing) 3-12-53
Women
1. Louise Robinson (Stourbridge CC) in 3-44-49
2. Isla Rowntree (Stourbridge CC) 4-03-50
3. Renee Saxton (Otley AC) 4-10-43
Junior
1. Thomas Armstrong (Wheelbase.co.uk Cannondale) in 3-36-53
2. Nick Barnes (Zepnat RT) 3-51-13
3. Tom Saville (Norton Wheelers) 4-10-23
Simon Fell
Pen-Y-Ghent
Neal Crampton
Paul Oldham on Simon Fell
Nick Craig
Louise Robinson
2011 Three Peak champs: Nick Craig and Louise Robinson
Related links
Three Peaks Cyclo-Cross 2011 photo gallery
Thank you for reading 20 articles this month* Join now for unlimited access
Enjoy your first month for just £1 / $1 / €1
*Read 5 free articles per month without a subscription
Join now for unlimited access
Try first month for just £1 / $1 / €1