Cundy gategate: The reaction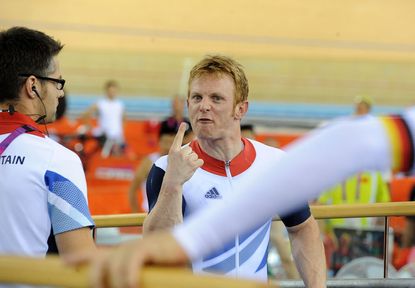 Get The Leadout Newsletter
The latest race content, interviews, features, reviews and expert buying guides, direct to your inbox!
Thank you for signing up to The Pick. You will receive a verification email shortly.
There was a problem. Please refresh the page and try again.
The decision to not allow Jody Cundy a restart in the final of the Men's C4-5 1km Time Trial was as controversial as any decision made in the London Velodrome in its short life.
Comment: The commissaire's revenge >>>
Cundy, the last man off as defending Paralympic champion, slipped out of the gate during his start. His GB team believed he should have been allowed to restart, the UCI didn't. Here's what they said...
Jody Cundy
Rider
"Going into the start gate, [I did] just the same as I had done every single time. The gun went off, and I didn't really go anywhere. Whether the start gate held me, something moved, whatever. I came out. The back wheel slipped. Instantly I put my hand up to show a mishap and pulled off the track.
"They took the bike off me, cleaned the wheels, went to go to the next stage to which point that's when it all started to go wrong. I just sat there waiting for the signal that I was allowed to ride again. But in the corner of my eye I could see the time was running on the board, so I knew things weren't quite right. The next thing I saw on the scoreboard was DNF next to my name.
"I could see my coaches and managers all moving off to the commissaires at which point my coach came back and gave me the throat single and that was it. That was my 1km TT in my home Paralympic Games over.
"To which point I kind of lost it, which I'm not proud about, but with the amount of hard work and effort that goes into getting into this position, I was pretty angry. I said a few choice words over and over again at the top of my voice but I had nowhere to go. I didn't know what to do. Pure anger and frustration was coming out at the same time. To that extent I'd like to apologise to the IPC, UCI and all the friends, spectators and all the people here today who witnessed it, and all the guys watching on TV and online and you guys in the press. Big apology from me.
"I know exactly what happened, I do starts so many times in training and once in a blue moon you get something wrong purely because you're not focused or you've switched off. I don't think I've ever been so focused in a start gate, waiting for that number to tick down to zero. That was my turn to shine.
"I believe that the rules need clarifying and clearing up so there's no ambiguity from commissaire to commissaire and the riders. In swimming, it's a one-start rule and that was it. You abide by [that]. In cycling, there are mechanical things that can go wrong, so it's fair enough to have that mishap rule. It just needs re-writing so people know what it is. You have people decking it deliberately to get that restart. The vagueness in the rule really doesn't help the situation."
Chris Furber

Head Para-cycling coach
"Essentially, we put Jody's bike in the gates as we normally do and we were happy with it. Jody came, got on his bike and during the countdown I felt the gates didn't release properly. It held him and that's what made him turn down the track. I would count that as a mishap and the rules say that
a mishap requires a restart, but the decision rises to the commissaires' panel.
"The gate commissar on inspection of the gate said the gate was fine, the start commissar said he felt the gate was fine so the chief commissar ruled that there wasn't a mishap. We spoke to the UCI, we asked them to review the TV footage, they said it would be inadmissable and they wouldn't review the footage and that the decision stands.
"I told Jody and obviously the reaction you saw was exactly Jody's reaction. Very, very emotional as you can understand."
Louis Barbeau
UCI Technical Delegate
"The rider (Cundy) came out of the gate and his back wheel slipped. He then held up his hand.
"The GB team claimed there was something wrong with the gate - there was nothing wrong with the gate. It is checked regularly. There was nothing wrong with the gate.
"Our interpretation is that the rider put too much weight on the front wheel, and, as a result, the back slipped. It is very unfortunate, no-one wants to see that happen, but these are the rules and we have to apply the rules equally to everybody."
Related links

London 2012 Paralympics: Cycling Weekly's coverage index
Latest news
Cundy goes for patriotic look on new racing leg for London
London 2012 Paralympics cycling event schedule
GB team named for London Paralympics
Reports
Track day one: Storey takes gold
Track day two: Day of mixed fortunes for GB
Photos
Track day one (afternoon) by Andy Jones
Track day one (morning) by Andy Jones


Schedule of events
London 2012 Paralympics cycling event schedule
Related links
London 2012 Olympic Games coverage index
Thank you for reading 20 articles this month* Join now for unlimited access
Enjoy your first month for just £1 / $1 / €1
*Read 5 free articles per month without a subscription
Join now for unlimited access
Try first month for just £1 / $1 / €1
Get The Leadout Newsletter
The latest race content, interviews, features, reviews and expert buying guides, direct to your inbox!
Nick Bull is an NCTJ qualified journalist who has written for a range of titles, as well as being a freelance writer at Beat Media Group, which provides reports for the PA Media wire which is circulated to the likes of the BBC and Eurosport. His work at Cycling Weekly predominantly dealt with professional cycling, and he now holds a role as PR & Digital Manager at SweetSpot Group, which organises the Tour of Britain.