Cycling fans are among the most stressed, study finds
Study confirms what we already know: being a cycling fan can be stressful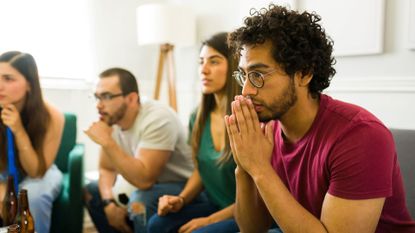 (Image credit: Getty Images)
Whether it's cheering on Sepp Kuss to keep the red jersey of La Vuelta each week or waking up at the crack of dawn to witness the incredible sprint finishes of the Tour de France, cycling fans are not only devoted, they are among the most stressed-out sports fans, according to a new study by The Grueling Truth.
The October 2023 study surveyed 1,249 United States-based sports fans and asked them about their favorite sports, stress levels during various activities, and how they manage stress while watching key sporting events. Sixty percent of respondents were male, 39% were female, and 1% identified as non-binary, with the average age of respondents being 43.8 years old.
Cycling fans were revealed as eighth most-stressed fans during a "crucial game," or competition in the case of cycling, with fans ranking their stress levels during a key race as a 4.9 out of 10. Baseball was first on the list with a 6 out of 10 and golf was tenth with a 4.3 out of 10.
The top 10 most stressful sports from most- to least-stressful:
1. Baseball
2. Ice Hockey
3. Basketball
4. Tennis
5. American Football
6. Soccer
7. Mixed Martial Arts (MMA)
8. Cycling
9. Auto racing
10. Golf
During the survey, sports fans were asked to rank how stressful daily activities such as commuting and public speaking are.
Cycling fans found that public speaking, taking an exam and work meetings were much more stressful than a key competition, with the three actions all clocking in a 6.7 out of 10 on the stress scale. Tackling a DIY project barely beat out watching a cycling race, coming in at 5 out of 10.
A birthday party (3 out of 10), family reunion and long commutes (both 4.4 out of 10) are less stressful than a key competition to cycling fans - but no word on what happens if a cycling enthusiast watches a key competition at a birthday party or reunion.
The study also delved into whether fans are more stressed watching their sport of choice alone, with friends, or with family - regardless of the sport.
A whopping 45% of fans said they are equally stressed about the game or competition regardless of who they're watching with, followed by 24% saying that being alone was the worst case scenario, and 16% and 15% saying watching with family and friends respectively was the most unfavorable situation.
In addition, The Grueling Truth asked how fans deal with their stress - do they yell at the TV, sit in tense silence, or pace around the room? About a third of fans admitted to shouting at the TV while 29% prefer to sit in silence with a poker face. Fourteen percent cool their heads by chatting with friends and 10% prefer to channel their nervous energy into another activity such as cleaning or pacing. And, lest we forget the 6% who shared that they have lucky rituals and sports superstitions to aid them through their stressful times.
The most-stressed sports states may surprise you, with Idaho taking the cake with an average 7.5 out of 10 stress score followed by Utah, Louisiana, and West Virginia coming in next with an average of 7 out of 10. The least- stressed states included Oregon (2.5 out of 10), Rhode Island and Oklahoma (4.4 out of 10).
With the rise of live streaming cycling competitions from all over the world, cycling fans have more access now than ever before to critical races as they happen in real time. And, with the rise of women's professional cycling events such as the Tour de France Femmes avec Zwift, cycling fans have a whole host of new races to become passionate - err, stressed - about.
Thank you for reading 20 articles this month* Join now for unlimited access
Enjoy your first month for just £1 / $1 / €1
*Read 5 free articles per month without a subscription
Join now for unlimited access
Try first month for just £1 / $1 / €1