Cycling to work: how and why businesses should help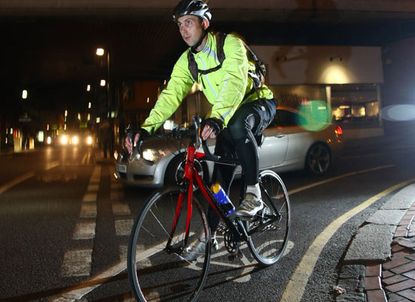 Office showers and cycle parking should be as common as printers and coffee machines, according to Sustrans, but can we still get colleagues commuting by bike where the workplace has no intention of overhauling the plumbing?
Today is the UK's inaugural cycle to work day an initiative championed by Dame Sarah Storey to try to get more people riding to work.
But despite the health, economic and environmental benefits of biking to work, barriers such as fear of road conditions and lack of facilities at work still prevent people doing it - though according to Sustrans at least some of these can be overcome with soft measures within the workplace.
Sustrans Policy Director, Jason Torrance, said; "Today is a great opportunity for everyone to try cycling to work - it's cheap, reliable, healthy and often the quickest way to get to work.
"But many people who want to choose a more active commute are put off by the lack of facilities and support in their workplace."
Absenteeism costs the UK an estimated £32 billion each year. And according to Sustrans, presenteeism - where people simply aren't productive - can cost businesses 75% more.
People who cycle to work are more productive and less likely to take sick days, while reallocating spaces for cycling means fewer parking spaces, which can cost businesses up to £2000 per year each.
At a panel discussion ahead of the scheme's launch, Dame Sarah Storey pointed out that cycling offers a cheap and reliable means of getting to work, as rail fares and petrol prices are rising, but lack of changing facilities, and especially showers, are a barrier in getting particularly women cycling to work.
Advocates of European style utility cycling might argue that showers and specific cycling clothing are unnecessary if a commuter simply drops the pace - but this isn't always practical on long commutes and busy city roads where it feels safer to move with the flow of the traffic.
Nonetheless, even in companies not able or willing to install showers, softer measures can help get encourage more cycling.
The most popular of Sustrans schemes is a ride-tracking challenge, where people log walking, cycling and bus miles, allowing them to compare commutes with colleagues, other departments and businesses.
Scott Davidson, Sustrans' Head of Workplaces, says the social and competitive element is a draw for all types of cyclist: "The Challenge programme engages 49% females and 51% males; we get a lot of new cyclists, people who are returning to cycling, and people who are increasing their cycling."
In buddy schemes Sustrans officers or even employees act as advocates in businesses helping people get on bikes using simple measures like riding with colleagues to work, which can help overcome the fear factor, which puts many people off cycling to work. The CTC also runs a programme of Workplace Challenges.
Cycle to Work Day was started by Cyclescheme founder Richard Grigsby.
To find out more visit: www.cycletoworkday.org.
Thank you for reading 10 articles this month* Join now for unlimited access
Enjoy your first month for just £1 / $1 / €1
*Read 5 free articles per month without a subscription
Join now for unlimited access
Try first month for just £1 / $1 / €1