Did the Olympics give cycling a boost?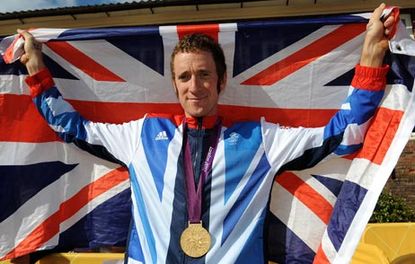 The positive effect of British cycle racing success is much trumpeted by organisations from British Cycling to Halfords, with boosts in sales and growing interest in mass participation events hinting that the UK is falling back in love with the bicycle.
However recent government statistics show that overall bicycle use across the country has remained static, bringing into question the size of the so called "Wiggo Effect" in getting more people cycling more often. Despite regional variations cycling accounts for just 2% of all journeys across the country, a figure which remained unchanged during 2012.
One of the early claims of a positive Olympic effect came from bike retailer Halfords. After struggling in May 2012 the chain apparently responsible for one in three bikes sold in the UK had a 14.7% jump in sales in the third quarter following London 2012.
Ladies' bikes designed by Victoria Pendleton - vintage style, not sporty bikes - are among its best sellers, indicating people were getting on bikes for non-competitive reasons.
Indeed the government's Ride to Work scheme also leapt in popularity after the Olympics, with a 30% increase in uptake in the third quarter of 2012 compared with 2011. Statistics also show that most of those new to the scheme hardly cycled before, including to work.
Mark Brown, Head of Ride2Work at Evans Cycles, said: "The big stat we had was of that from July to August we saw 150% increase in people joining from the same period in 2011."
He added: "90% of people who do the scheme notice health benefits; people join because they want the tax benefits but they soon realise all the health benefits and happiness. Some people start to talk about giving up their cars completely."
If more bikes are being sold then it follows that more people should be cycling. British Cycling (BC) certainly think so. Research conducted on 1000 people before and after the Olympics by the London School of Economics (LSE) on behalf of Sky and BC showed Britain's Olympic success had motivated people to cycle more, whether competitively, commuting or leisure rides.
Stewart Kellett, Director of Recreation and Partnerships at British Cycling said: "We're incredibly proud that the success of our elite athletes has been mirrored by huge numbers of people getting their bikes back out of the shed, or trying out cycling for the first time."
Kellett said BC events like Sky Rides, local guided rides and Breeze rides have helped get a million more people get cycling. He added: "We've provided a range of opportunities - from big city centre events like Sky Rides, through to local guided rides and our more informal Breeze rides for women that make it easy for people to get out on their bikes and enjoy themselves.
"During the Olympic fever period, June to September there was an increase in [Breeze ride] participation by 130% which was absolutely incredible for us."
Mark Cavendish leads one of British Cycling's Sky Rides
Although the LSE research suggest those re-entering cycling are more likely to do gentler family and social rides than long distance sportives, the uptake in mass participation events has been felt across the board. Event organisers UK Cycling Events reported three times as many orders between the period between December and February after the Olympics than the same period before.
The Guardian also cited the "Wiggo Effect" on a boom in cycling holidays during 2012, also predicting cycling would continue to dominate the 'active break' sector in 2013. Andrew Straw of cycling holiday company Saddle Skedaddle agreed.
"Cycling is very much on the up, and we are having our best year," he said, adding that the biggest areas of growth were the lower graded easier trips, with far more women joining Skedaddle's cycling holidays than before.
"January and February were record months for us and generally the feel it is a lot more people getting into cycling."
Culture doesn't change overnight
However, many are understandably sceptical about the potential for a single event to change the country's habits, arguing that two weeks of competition will have little impact on those who were unwilling to cycle in the first place.
As Andy Salkeld from Leicester City Council put it during the recent Parliamentary cycling inquiry, 'Get Britain Cycling': "We have spent the last 50 years building a car-centric culture, and it doesn't change overnight because we have won some Olympic gold medals."
The Mayor of London (r) riding with gold medalist turned cycling campaigner, Chris Boardman
Speaking to Cycling Weekly last year, Mikael Colville Anderson of the Copenhagenize cycling consultancy observed of the UK: "A whole generation grew up with an impression of cycling as a sport or a recreation and nothing else - or something kids learned in the driveway then stopped."
Sport certainly won't change that impression alone, and the ability of mass participation events like the Sky ride to change people's long terms habit is unknown. Indeed the latest government figures suggest the Olympic effect might not be as significant as that paraded by retailers and event organisers.
Certainly introducing people to cycling while handing out hi-vis tabards (which many would argue implies cycling is inherently dangerous) on streets that are often traffic-free could mean some events are an artificial, albeit fun experience. In short, a nice day out but cars rule the roads for the other 364 days of the year.
Colville Anderson identified some parallels between the UK's experience and what happened in Denmark following Bjarne Riis' 1996 Tour de France: Danish cycle holidays increased 30% after Riis became the first Dane to win the Tour (although he later confessed to having done it with the help of doping).
However he argued that in Denmark the effect is in reverse. "It's the opposite way around [to the so called Wiggo or Olympic effect]," he said, noting that small countries like Denmark and the Netherlands have more professional racers - and win far more medals - than their size would suggest.
"The more people there are out riding their bikes every day, the more will then filter down into the cycling clubs," he explained.
Squandering the Olympic legacy?
If the "Wiggo Effect" is not as straight forward as it seems, what is needed to make sure that the active travel legacy of the Olympic Games is both positive and sustained?
"It [the government figures] should act as a prompt to the Government that they cannot sit back and wait for cycling to increase, they need to take action to promote it," Chris Peck of the CTC said about the latest government figures. "Investment is one of the mainstays if you want to get more people cycling."
Speaking to The Times, Julian Huppert, the MP for Cambridge, said, "this is a figure that we need urgently to work on and get more people cycling. We need to demonstrate to people that it is a safe, efficient, cheap and healthy thing to do. Government has a critical role in doing this in terms of leadership, funding and providing a vision."
Increased and consistent funding from central government was one of the key elements called for in the "Get Britain Cycling" report published on April 24 after a parliamentary inquiry of the same name. "Squandering the Olympic legacy and failing to create a healthier, more active UK," is a major concern, it adds.
Although months in the making, London got a groundbreaking new cycling plan with real ambition from Boris Johnson and his new cycling commissioner, Andrew Gilligan, in March. £931 million has been pledged over ten years.
Cycling commitment from UK councils continues to be a mixed bag and transport minister Norman Baker, as he announced details of a £62 million investment in cycling, told the Guardian he couldn't see the UK becoming like the Netherlands.
That public support is also growing is not in doubt, with high profile endorsement from Chris Boardman to The Times adding to the nation's enthusiasm.
What is needed now is the level of political ambition shown in London to make cycling for everyone, as it is on the continent, and as it should be.
Related links


Consistent funding required to increase cycling in the UK
Remove barriers to "Get Britain Cycling," say MPs in new report
Thank you for reading 20 articles this month* Join now for unlimited access
Enjoy your first month for just £1 / $1 / €1
*Read 5 free articles per month without a subscription
Join now for unlimited access
Try first month for just £1 / $1 / €1