Dowsett exceeds expectations at Worlds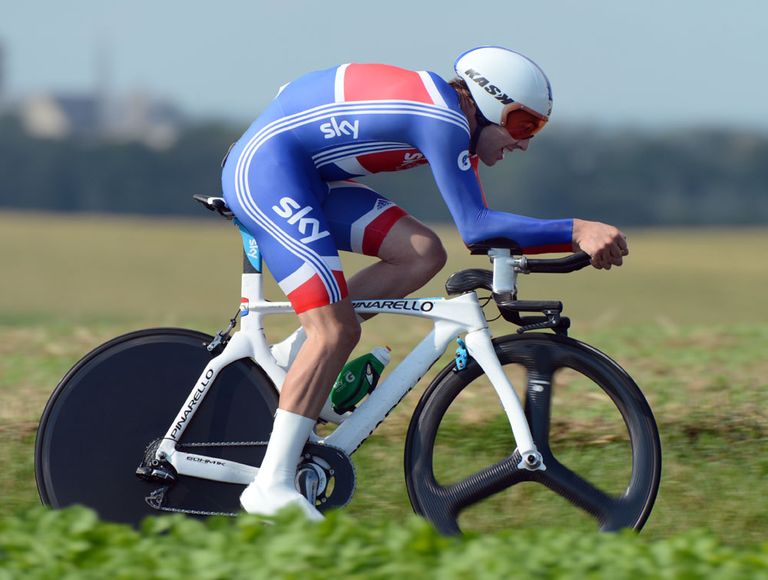 Great Britain's Alex Dowsett has explained that his performance at the World Championships time trial in Valkenburg went far beyond his expectations for the race.
The 23 year old from Essex finished in eighth place in the Netherlands, one place ahead of pre-race podium favourite Alberto Contador.
"I dreamed of a top ten I guess, but to be comfortably inside I'm thrilled with," Dowsett said. "I had no idea how I was going to go but with how Great Britain have done this year you come into these events and there's a certain level of expectation."
"There is pressure just putting on a Great Britain team skinsuit in 2012, so I'm just pleased to have done a good ride."
Dowsett suffered the heavy rain and blustery wind which hit the 45.7km course midway through the race and seemed to be slightly slower than the best provisional times as he went through the first and second checkpoints on the ride.
He reasoned that he had ridden one corner poorly, which later claimed Marco Pinotti (Italy) as a victim, and admitted to having one moment where he got "very sideways." Yet he finished strongly and his time withstood the best efforts of many of the world's top time trial riders, an outcome he puts down to a different approach to the race.
"Usually I ride on speed but with a course like this, having chatted to Bobby [Julich], Sean [Yates] and Rod [Ellingworth] early on, I decided to go off power instead. I rode to a set power and I think that paid off," Dowsett explained.
Team Sky and Great Britain coach Ellingworth echoed Dowsett's surprise, saying that after driving the course on the night before the race he doubted his rider's ability to break into the top ten.
"It's excellent, fantastic actually," Ellingworth said. "We thought on a course that suits Alex, if he scrapes a top ten then that would be fantastic. But I thought maybe 14th or 15th [on this course], so he's done much better than we thought he would do."
Related links
Martin beats Phinney to World time trial title
Road World Championships 2012: Coverage index