Evans Cycles launch new range of HOY Kids' bikes
Designed in partnership with six-time Olympic champion Sir Chris Hoy, the HOY range promises to offer the lightest kids bikes in the UK for riders aged between four and sixteen years old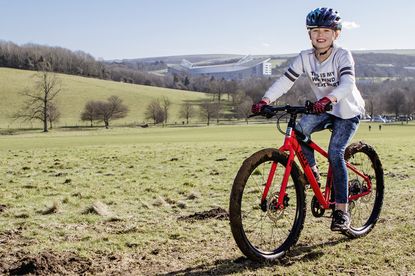 Evans Cycles has updated its HOY range, claiming to offer the lightest kids' bikes in the UK at competitive prices.
Bikes in the range, which consists of two models, are named after places Sir Hoy would ride as a child, Bonaly and Meadowmill.
The Bonaly, an area of area of the Pentland Hills where Sir Chris Hoy first rode his mountain bike, has been carried forward from the existing Evans Cycles HOY range.
The model now comes in 16, 20, 24 and 26 inch wheel sizes and offers a completely redesigned lightweight frame and child friendly components.
The Meadowmill is named after the cyclo-cross circuit that Sir Chris Hoy raced on early in his career, and is aimed at young riders who are looking to ride on a multitude of terrains, with drop down handlebars and lightweight aluminium frame.
The range now comes with child-friendly components and new Q factor crankset, which Evan Cycles says has been designed to ensure smaller riders' legs are closer together and pedalling is efficient and smooth.
>>> How to teach your child to cycle
The crankset lengths have also been designed to limit any overstretch of legs, as well as ensuring pedals don't clip the floor when cornering.
Handlebar widths have been tailored to match different shoulder widths of children, which should help with bike control, in addition to the new lightweight frame and finishing kit, low spoke wheels and super light foam padding for saddles all help to reduce weight and improve comfort whilst on the bike.
How to teach your child to ride a bike
The bikes are available now from evanscycles.com and start at £260 for the Bonaly and £280 for the Meadowmill.
Thank you for reading 5 articles this month* Join now for unlimited access
Enjoy your first month for just £1 / $1 / €1
*Read 5 free articles per month without a subscription
Join now for unlimited access
Try first month for just £1 / $1 / €1