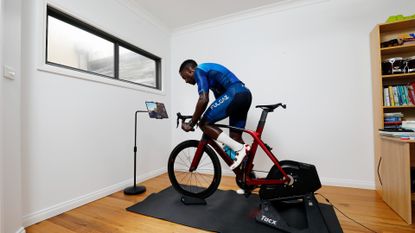 (Image credit: FulGaz Indoor Cycling App)
Winter in the UK only means one thing for cyclists. Riding indoors. The past decade has seen the rise of online indoor cycling apps, which means you've got a lot of options to keep you entertained and engaged while you ride inside. Whether it's Zwift, Rouvy, BKool or FulGaz, there's something for everyone.
For riders seeking realistic, real world riding, FulGaz is the ideal indoor cycling app.
Less virtual, more reality
Most cyclists don't love sitting on a stationary bike in their garage. Online cycling apps are all focused on the same thing - providing you with a more engaging, entertaining training experience indoors. With the FulGaz indoor cycling app, the experience is 100% real. Real roads, real climbs, real footage. Rather than making you feel like you're in a computer game, FulGaz is 'Less virtual, more reality'.
Be inspired by the road
The FulGaz indoor cycling app provides 4K video footage of real cycling routes and destinations from 38 countries around the world. From the classic climbs of the Tour de France, to riding around Uluru in Australia, you will find rides with blue skies and spectacular scenery that will help you to forget about the grey winter weather outside and make you want to ride inside.
To find the perfect route, you can easily search the app's library based on location, duration, distance, elevation and toughness. Some of the latest additions to the library include the Sella Ronda in Italy, one of the most iconic routes in Europe. If you want to feel like you're at home, there are also some excellent local options, including the Surrey classics of Box and Leith Hill and the toughest climbs of Yorkshire, including Fleet Moss.
Tailor your training for your 2022 events
The extensive range of training programmes and real route options means that the FulGaz indoor cycling app can be used to train for your key sportive events. For example, all of the key climbs from the 2022 Etape du Tour route are available to ride on FulGaz (Cols du Galibier, de la Croix de Fer, and Alpe d'Huez).
FulGaz gives you three independent settings to allow for a more realistic replication of climbing and descending (Slope Scaling Uphill, Slope Scaling Downhill, Slope Limit). You can use these settings to get a true-to-life simulation of the climbs that you are training for, making training more productive and more efficient than just riding indoors.
Groups and events
FulGaz also offers group rides and virtual cycling events. In January, FulGaz will be hosting the TD Five Boro Bike Tour of New York City. Check out their website for more information on how to join.
30-day free trial
FulGaz is an Australian based and operated indoor cycling app and is available to download on MacOS, iOS, Android and Windows. It supports some of Australia's best professional riders, and the national Australian Cycling and Paracycling Teams. Try out the credit-card free extended 30 day trial now and be inspired to ride more!
To access a free 30-day trial, use the code 22CyclingWeekly. Download today at: www.fulgaz.com
Thank you for reading 20 articles this month* Join now for unlimited access
Enjoy your first month for just £1 / $1 / €1
*Read 5 free articles per month without a subscription
Join now for unlimited access
Try first month for just £1 / $1 / €1