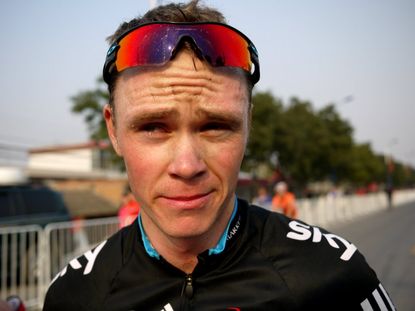 If you were none the wiser, the sight of Chris Froome working tirelessly for Bradley Wiggins during the recent Tour of Romandy could have fooled you into thinking that this season has been business as usual for the Kenyan-born Brit.
Having made his name after doing something similar for the opening two weeks of last year's Vuelta, Froome's reprising of that role came after a start to 2012 that has been anything but plain sailing.
Initially buoyed by his second place in Spain and with it his three-year contract extension, the first sign of trouble came at Sky's Majorca training camp in January. Having "not felt quite right" there, he pulled out of his first race of 2012 - the Volta ao Algarve - a month later suffering from a chest infection.
That left him "bed ridden for nearly two weeks" and forced him to miss Paris-Nice. While the peloton were working their way down to the Mediterranean, he crashed while training in Italy. Worse still, blood tests shortly after revealed that bilharzia parasites were active in his system.
This is nothing new for Froome, who was first found to be suffering from the condition at the end of 2010 after coming into contact with contaminated water in Africa. With symptoms including fatigue and abdominal pain, it's hardly surprising that it hindered the early part of 2012 for him, as it did last year.
"I found it 18 months ago and they had probably been in my system for a year before that," he explains. "I took the treatment three weeks ago and I've got to wait six months to see if it's still active or not."
Froome is less forthcoming when asked about the incident in March in which - according to local media reports - he collided with a 72-year-old pedestrian during a training ride in Italy. "I had a crash on the time trial bike, but luckily everything was all right," he says, only expanding to confirm he needed stitches to his chin. The pedestrian was initially treated for head injuries, but we have been unable to attain any further information.
Lean and focused
Romandy was Froome's first race with Wiggins and his mountain men since he abandoned Algarve. Along with Richie Porte, the plan was for the trio to be inseparable throughout 2012.
Porte has been exactly that, be it either mirroring Wiggins's post-stage warm-downs or taking part in the Tenerife altitude camp at the beginning of April. Based on his performance in Switzerland, you can see why Froome is considered a key ally of Wiggins. Despite so little racing going into Romandy, he still looked lean and focused.
"This race has been completely spot-on for what I needed to do in terms of getting that race rhythm back and finding a bit of extra form," he says.
"Every day we've been on the front, we've not sat back. That's a lot of hard work, but you know it's for the bigger cause."
Froome is an interesting interviewee. He's not like Mark Cavendish, who will sometimes pause for 10 to 15 seconds before responding to a question. Nor is he similar to Bradley Wiggins, who can still be delightfully irreverent, even in this rent-a-quote modern era. Froome is somewhere in the middle. He listens attentively - his iPhone goes off twice during the interview, but is never distracted by it - and gives straightforward, yet concise answers.
"Actually, 2012 hasn't been that frustrating," he declares. "Yes, it's been a while since I properly raced, but the last three weeks I've trained very well and I've done all the work I needed to do here.
"I know what's potentially in front of me and how things can go if all is well. I'm not panicking. It's still very early days in the season - there's still the Tour, Olympics and Vuelta. It's not too late. What's happened so far this year could turn out to be a real blessing in disguise."
Slow start to the season
At present, Froome's only competitive action before the Tour will be at the Critérium du Dauphiné (June 3-10) and the National Road Race Championships (June 24). That would take him up to 20 days of racing, an amount that would put even Lance Armstrong's pre-Tour schedules to shame. Nonetheless, Froome is only focusing on the benefits of his relatively slow start to the season.
"I hope to be fresher physically and mentally later on in the year, and have an advantage over those who have been competing for a few months now," he says.
As for the bilharzia, a recent test suggested it is leaving his system. At present, all roads are leading directly to the Tour.
"We'll go in with a plan and we will try follow that as closely as possible," he says. "Bradley's having the season of his life so far, and I'm more than happy to back him all the way."
So, if you're planning on watching the racing unfold on your television or to line the narrow roads of France this summer, expect to see Froome working tirelessly for his fellow Brit. Provided, that is, the next three months of 2012 run more smoothly than the first three.
Froome and flies
During the Tour of Romandy, Froome's Sky team-mate Mark Cavendish tweeted: "Great science lesson for @TeamSky last night from @chrisfroome, involving a dead fly & some salt. Nobel prize for that man!" So, what exactly was the world champion talking about?
"We were at the dinner table and a fly flew into someone's water," Froome explains. "I told the team how you can actually drown it and bring it back to life. No one believed me. We held it underwater for a little while until it wasn't moving. We pulled it out, put some salt on it and it started moving again and flew off. The salt draws out all the water. I think we start running out of party tricks when we spend so much time together."
Related links
Wiggins back to defend Criterium du Dauphine title
Chris Froome: Rider Profile
Thank you for reading 10 articles this month* Join now for unlimited access
Enjoy your first month for just £1 / $1 / €1
*Read 5 free articles per month without a subscription
Join now for unlimited access
Try first month for just £1 / $1 / €1
Nick Bull is an NCTJ qualified journalist who has written for a range of titles, as well as being a freelance writer at Beat Media Group, which provides reports for the PA Media wire which is circulated to the likes of the BBC and Eurosport. His work at Cycling Weekly predominantly dealt with professional cycling, and he now holds a role as PR & Digital Manager at SweetSpot Group, which organises the Tour of Britain.