Here's everything you need to keep you riding through the winter
As the weather turns, make sure you have everything you need to stay warm and dry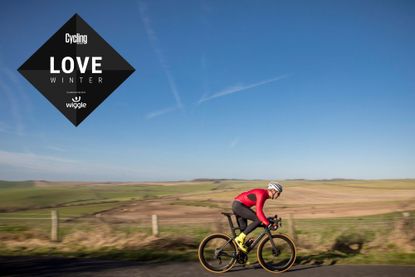 Promotional feature with Wiggle (opens in new tab)
Well summer is officially over, but that doesn't mean the kilometres have to stop and Wiggle is here to help you get your bike ready for winter.
But to make sure you enjoy your winter riding, getting the right kit is essential.
Following the coronavirus lockdown, 2020 will also see plenty of new cyclists who will be riding their way through winter for the very first time.
As we move from autumn into winter, conditions will get unpredictable, the rain is guaranteed to fall and temperatures will drop, but you can still have some fantastic rides with your friends or keep commuting by bike if you're properly prepared for all eventualities.
The first thing to do when getting set for the colder months is keeping yourself warm and dry, so choosing the perfect clothing is key.
Online retailer Wiggle has a full range of winter cycling clothing (opens in new tab) perfect for both beginners and more experienced riders.
From long sleeve jerseys, to bib tights, gilets, gloves, and neck-warmers, you can pick up all the essentials from Wiggle, all with unlimited next day delivery and free returns with a Wiggle+ membership (opens in new tab) - peace of mind and winter-proofed kit for just £9.99 a year.
Once you're decked out in all the winter kit, next you need to get your bike primed and ready to tackle some tricky conditions, most importantly by staying safe.
Wiggle's extensive range of lights (opens in new tab) will keep you illuminated and visible in the darker days and evenings of winter.
You can pick up lights like the LifeLine ORI 1700 Lumen Power Bank Front Light (opens in new tab) or the LifeLine Aero Beam Rear Light (opens in new tab), which are both great choices for winter-proofing your ride.
Riders braving the tougher conditions may also want to consider a mudguard (opens in new tab) to keep themselves and their riding partners dry, especially as some cycling clubs make mudguards mandatory on winter group rides.
LifeLine has mudguard options both for road bikes (opens in new tab) and for the more intrepid cyclists who will be hitting the gravel (opens in new tab) late this year.
When taking the bike out in winter you'll also want to guarantee the longevity of your machine, so making sure you have the right maintenance set-up (opens in new tab) will be a real game-changer.
Wiggle has countless options for toolkits (opens in new tab), workstands, torque wrenches, allen keys and chain cleaners, plus a range of pumps - all essential to keep the wheels turning after summer.
As much as we all hate it, it's hard to understate how important it is to keep your bike clean, so having the ideal cleaning products (opens in new tab) can make life much easier.
The Mobi V-17 Portable Bike Pressure Washer (opens in new tab) will save you a lot of time without damaging your bike and twinned with the Mobi Eco Citrus Bike Cleaner (opens in new tab) your machine will be looking clean whatever the weather.
Now the final step in winter preparation is ensuring your components are up to the task, so you may want to consider some alloy wheels (opens in new tab), harder wearing than their carbon counterparts, like the Prime Stagiaire wheelset (opens in new tab)or also from Prime the Attaquer set. (opens in new tab)
Tyre choice is also a huge factor in the winter months, so consider a set of Continental GatorSkins (opens in new tab) or Grand Prix 4 Seasons (opens in new tab) to help you stay rubber-side down.
Pedals are also worth considering - are yours up to the task? Wiggle has plenty of deals including the Shimano R550 SPDs (opens in new tab), Speedplay Zero Chromoly (opens in new tab), and the Look Keos. (opens in new tab)
Of course sometimes the weather will be just too bad to get outside and ride, but that doesn't mean you have to stay off the bike.
Indoor training has become huge in recent years and with training platforms like Zwift evolving every day, it's only going to get bigger.
This winter could be the perfect time to get stuck into the world of virtual riding, so a turbo trainer (opens in new tab) might be the best investment.
Wiggle has options like the LifeLine Xplova NOZA S Smart Trainer (opens in new tab) and with the LifeLine Rocker Plate (opens in new tab) your indoor ride will feel uber-realistic.
Whatever your experience level, Wiggle is here to help you get your bike ready for winter.
Thank you for reading 5 articles this month* Join now for unlimited access
Enjoy your first month for just £1 / $1 / €1
*Read 5 free articles per month without a subscription
Join now for unlimited access
Try first month for just £1 / $1 / €1