Hope team wins Rapha Supercross series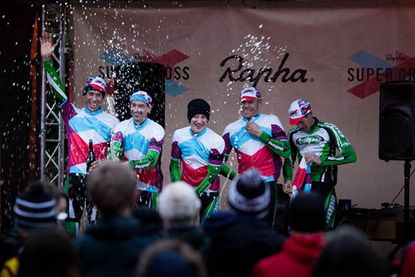 Hope Factory Racing were crowned champions after the final round of the Rapha Supercross at Alexandra Palace in London on Sunday - but only after a nail-biting finale.
After dominating the first two rounds at Brtoughton last weekend and at Misterton on Saturday, Hope were on the back foot in Sunday's final, with Hargroves Cycles and ROTWILD-Forme Coaching pushing them down into third on the day.
But on countback, Hope's victories in the first two rounds gave them just enough points for the overall win.
Paul Oldham once again was first man across the line ahead of Hargroves' Jody Crawforth and Ben Sumner (ROTWILD-Forme Coaching), but with his team-mates suffering, Hope had an anxious wait before the overall result was announced.
In Liverpool, Team Elite were celebrating a one-two in the senior race as Giles Drake pipped team-mate Paul Bethell to victory in East Liverpool Wheelers' event at Otterspool Park.
Round six of the North West League, the race saw Drake win only his second round so far this season - but he has never been outside the top four in any of the races he has ridden.
Third in the previous two races, Tim Guy (Iceni Velo) secured victory in round eight of the Eastern League, the Colchester Rovers cross at Furze Hill, Mistley, on Sunday.
The 33-year-old from Ipswich was 35 seconds clear of his nearest rival Hayden Wood, and overtook Wood in the overall rankings with eight rounds gone. Junior Theo Doncaster (CC Ashwell) was third, 2-09 behind after a strong display.
Crosstrax rider Neal Crampton won round seven of the Yorkshire Series at Brighouse, having overcome an enforced bike change because of the thick mud at the West Yorkshire venue on Sunday.
In Hereford, Adam King (Cardiff JIF) finalised his preparations for the European Championships on Saturday with victory in round six of the Welsh League on the Foxley Estate.
He held off Jonathan Pugh (CycleTec) for the win, reversing their positions in round five the previous week.
Jim Bryan (Zepnat RT) showed just why he is the reigning National 40-49 Champion when he took a comfortable victory in the eighth round of the SRAM Notts and Derby League at Bramcote, Nottingham, on Saturday.
The 41-year-old was 40 seconds ahead of runner-up Gareth Whittall (Clay Cross RT), while Nottingham Clarion's Andrew Stuart was third, another nine seconds back.
Danish rider Dennis Lisbygd won round eight of the Central League, staged by A5 Rangers at Magdalen College, Brackley, on Saturday.
Now living in St Apbans and riding for Icknield RC, Lisbygd was by around 20 seconds, and took his second cross victory of the season following a win in the Eastern League earlier this month.
And Wheelbase rider Mike Cotty won the Wessex League event at Rutherford Appleton near Didcot, crossing the line around 43 seconds ahead of Pedal On rival Adrian Lansley.
Rapha Supercross action at Alexandra Palace
Thank you for reading 20 articles this month* Join now for unlimited access
Enjoy your first month for just £1 / $1 / €1
*Read 5 free articles per month without a subscription
Join now for unlimited access
Try first month for just £1 / $1 / €1