Hoy blasts back to impossible keirin win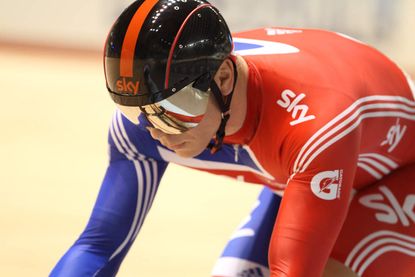 Chris Hoy pulled off the most unexpected win of his career when he blasted to victory in the keirin today. Hoy winning the keirin isn't surprising at all, but when he came over the line in first place everyone was left thinking 'how did he just do that?'
Coming round the final banking, Hoy had three riders in front of him and nowhere to go. On to the back straight, Hoy put his front wheel in-between the rear wheels of Maximillian Levy and Simon Van Velthooven, who blocked his path. Then incredibly the two parted. Van Velthooven, sensing Kenny on his outside moved out and gave Hoy some daylight.
Seizing his chance in a split second, Hoy surged forwards so quickly he was immediately on to Levy's shoulder. The German who had lead for the last lap and a half slowed up and Hoy burst through to win by a length.
"I don't remember, I coasted across the line, threw the bike and couldn't believe I'd won," Hoy said. "I did it out of necessity because I had run out of options. I would have run round the outside and I would have had a chance of getting htem on the outside but having killed my run and stalled I lost momentum and I couldn't do that."
"I don't often do it [like that] I've always just gone for it Forrest Gump style it's a bit of a change for me."
Disappointed with his result in the sprint yesterday Hoy was the first rider into the velodrome today, warming up on the rollers getting his race face on.
"I was in the right frame of mind today and was determined to make up for the disappointment last night. And just to try and secure the place for the Olympics."
Thank you for reading 5 articles this month* Join now for unlimited access
Enjoy your first month for just £1 / $1 / €1
*Read 5 free articles per month without a subscription
Join now for unlimited access
Try first month for just £1 / $1 / €1