John Tanner wins Out of the Saddle road race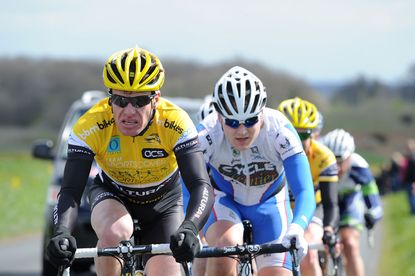 While the current day elite riders were battling it out at the Tour of the Reservoir Premier Calendar race in Northumberland, a five-time winner of the series was busy proving that age is no barrier to success.
Commonwealth Games rider John Tanner (Strategic Lions) secured victory in the Out of the Saddle Road Race in South Yorkshire at the tender age of 45.
He attacked several times, determined to shake off his younger rivals and cross the line alone at the end of the 50-mile race.
Because of the popularity of the event, the Out of the Saddle Road Race was split into two, and the other race was won by UK Youth rider James Lowsley-Williams.
Elsewhere, teamwork proved crucial to Karla Boddy (MG Maxifuel) who secured victory in the Cheshire Classic Women's Road Race at Northwich in Cheshire on Sunday.
It took the judges a while to separate Boddy from sprint rival Emma Grant (Matrix Fitness) at the end of the 49-mile race, while Emily Kay (Scott Contessa-Epic) completed the podium in third.
And in Leicestershire, Tao Geoghegan Hart (CC Hackney) took victory in the latest round of the National Junior Road Race Series, the Loughborough University Junior Road Race.
He took the win ahead of Scott Davies (Liverpool Mercury CC) and Oliver Wood (Team Sportscover) after a tough race which was battered by strong winds and tough climbs.
North of the border, talented teenager Harry Tanfield led a one-two for the Herbalife-Leisure Lakes team at the Davie Campbell Memorial Road Race in Fife on Sunday.
The 18-year-old from Middlesbrough took the win narrowly ahead of team-mate Tom Bustard, while Champion System rival Dillon Byrne took third, ten seconds off the pace.
And in Oxfordshire, London Dynamo rider Mike Debney was victorious in the Reading Spring Road Race at Woodcote.
He won a tight sprint finish to the 62-mile race from Exeter Wheelers rival Andrew Feather, while Simon Henley (Team Corley Cycles) was edged out into third spot by the narrowest of margins.
Another London Dynamo rider, Jonathan Dredge, took the win in the elite race at the Birmingham CC Circuit Races at the city's Business Park on Sunday.
The 26-year-old was just ahead of IG-Sigma Sport rider Jake Hales, while James Notley (Planet X) took third.
Related links
Evan Oliphant wins Tour of the Reservoir
Thank you for reading 20 articles this month* Join now for unlimited access
Enjoy your first month for just £1 / $1 / €1
*Read 5 free articles per month without a subscription
Join now for unlimited access
Try first month for just £1 / $1 / €1