Johnny Hoogerland hit by car during training ride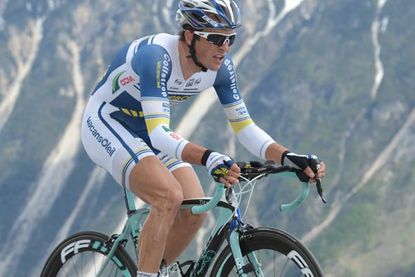 Dutch rider Johnny Hoogerland has fractured his ribs and back as a result of being hit by a car during a training ride, and is currently in intensive care in a Spanish hospital.
Hoogerland's Vacansoleil-DCM team issued a brief statement on Sunday evening confirming that the rider had 'crashed hard' during a training ride and was taken to hospital in Villajoyosa, Spain, where he received treatment.
"The rider of Vacansoleil-DCM was going slightly downhill when a turning car didn't see the rider and hit the unfortunate Hoogerland," read the team statement.
The 29 year old underwent further medical examination on Monday and it was discovered that he had five fractured ribs, fractured bones in his spine and bruised liver. He will stay in intensive care until mid-week. He will now miss the entire spring season, his team has said.
Hoogerland suffered horrific injuries on stage nine of the 2011 Tour de France when a French television car sent him spiralling into a barbed wire fence while he was riding in an escape group.
Despite deep lacerations to his legs, he eventually finished the stage and put himself in the King of the Mountains classification lead. Few will forget his emotional post-stage podium appearance to receive the polka dot jersey.
Related links
Hoogerland's horror crash
Thank you for reading 20 articles this month* Join now for unlimited access
Enjoy your first month for just £1 / $1 / €1
*Read 5 free articles per month without a subscription
Join now for unlimited access
Try first month for just £1 / $1 / €1