24 hour bike ban on Devon street, but only 12 hour ban for cars
A town in Devon has implemented a 24 hour bike ban on one of its streets, but cars are still permitted for 12 hours of the day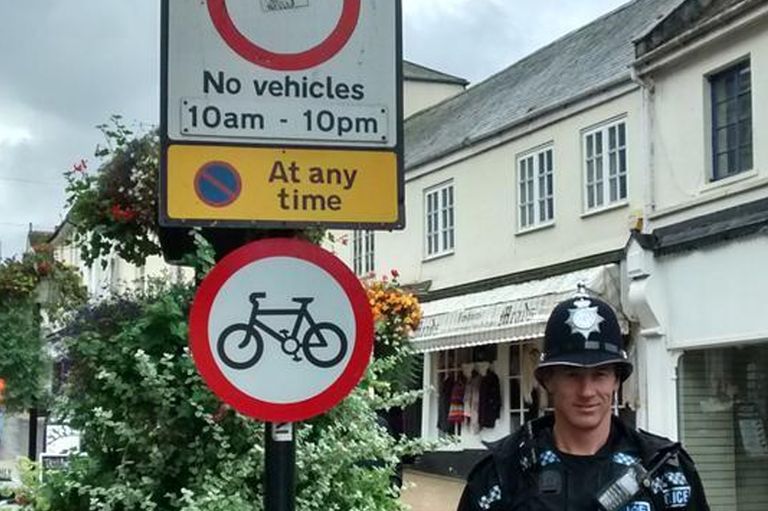 Brixham, a small town in south Devon, has come under the spotlight after it emerged on Twitter that authorities had implemented a 24 hour ban on bikes on a town centre street, but will allow cars to use it for 12 hours of the day.
Riders will face an on-the-spot fine of £50 if they are caught using Fore Street, with one man having already been issued a fine since the ruling began.
The ruling was first noticed when local police officer Sergeant Steve Cayless posted an image on his Twitter account of him standing next to the no cycling sign, which was placed beneath a sign restricting vehicles between 10am and 10pm.
The Sergeant, who the day before had tweeted about giving a cyclist a fine for breaking the restriction, confirmed to the Torquay Herald Express that while motor vehicles were only partially restricted, bicycles were restricted around the clock.
"You are allowed to drive your car down there between 10pm and 10am, but no cycling is allowed at any time," he said.
"The main issue is that people are riding down Fore Street in the middle of the day when there are lots of elderly people who are not expecting someone to come bombing down on their bike.
"That's what I have been getting complaints about from the council.
"We have now had all the signs replaced, making the no cycling rule in Fore Street enforceable.
"It was always illegal but we couldn't really enforce it because the signage wasn't clear."
When questioned about the issue by a cycling campaigner on Twitter, who said the ruling "seemed stupid frankly" because of the differing rules for vehicles and bikes, Sergeant Cayless said that he would raise the issue with Brixham Town Council.