Albert: The feeling of being a god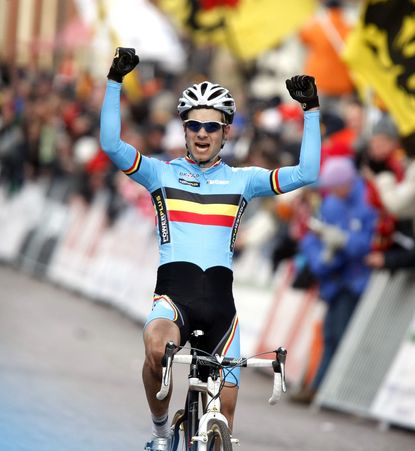 Newly-crowned World Cyclo-cross Champion Niels Albert admitted to feeling like a god after his victory at a press conference in Lierre at the BKCP head office, one of Albert?s team sponsors.
?Without doubt as a result of all the adrenaline and the alcohol,? explained Albert on Monday, ?I dreamed of all the extraordinary memories, the race, the [fantastic] encouragement from all the fans and I re-lived the moment, when I realised, with two laps remaining, that I was going to win.
?Then I triumphed and it is in moments like this when one has the impression of being a god?.
A newly-crowned World Champion in any discipline may be excused a little excess in the aftermath of a remarkable accomplishment but the 22-year old Albert remained serene.
?I was tired and I didn?t want to over-do it,? said Albert, who celebrated his victory with his fans but went to bed at just after midnight on Sunday.
?The party with the supporters was fantastic but I was also thinking ahead [to the next races]. As for this [rainbow] jersey, I want to show it off!?
Albert, who sustained a heavy crash in mid-November, arrived at the World Championships overshadowed by the weight of expectation upon the main contenders, Lars Boom and Sven Nys. Whilst Nys was defending his lead in the World Cup and Superprestige trophies, Albert recovered well from his injuries and was perhaps the freshest when it counted on Sunday.
Already given the moniker ?Prince Albert? by the Belgian press, now updated to ?King Albert? in light of his victory, the young Flandrian has now adopted the name ?The Woodcutter? for the way in which he destroyed Boom?s [which means ?wood? in Dutch] chances at the weekend.
Only 22 years old, Albert will add his name to the list of cyclo-cross legends with his remarkable accomplishment on Sunday.
Albert will return to action tomorrow, resplendent in the rainbow jersey, in Maldegem.
RELATED LINKS:
World 'cross champs: solo victory for Albert in Holland
World 'cross champs: Wyman crashes while Vos wins
World 'cross champs: Fletcher shows promise in U23s
Thank you for reading 20 articles this month* Join now for unlimited access
Enjoy your first month for just £1 / $1 / €1
*Read 5 free articles per month without a subscription
Join now for unlimited access
Try first month for just £1 / $1 / €1