Alex Braybrooke to become latest Briton riding for Lotto-Soudal U23
Young British rider Alex Braybrooke to become the fourth rider from the UK since 2009 to ride for Lotto-Soudal's U23 team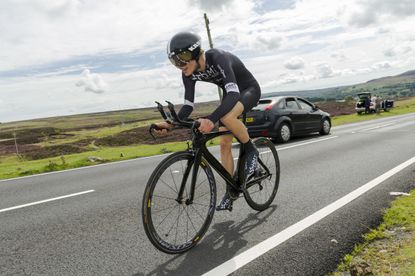 Alex Braybrooke will next season become the latest British teenager to ride for Lotto-Soudal U23, the feeder team to the WorldTour outfit (opens in new tab).
The 18-year-old has had a stellar year for the HMT Academy, the highlight being wearing the yellow jersey and finishing second overall in the Bizkaiko Itzulia (more commonly known as the Junior Tour of Basque Country).
Braybrooke's climbing powers lend himself to greater success on the Continent, where he won the Singal d'Ecouves in Normandy in June and finished fifth overall at both the Driedaagse van Axel, in Holland, and La Coupe du Président de la Ville de Grudziadz, in Poland.
His move to Belgium will see him team up with fellow Brit James Shaw (opens in new tab), both of whom are following in the footsteps of sprinters Dan McLay (opens in new tab) and Adam Blythe who both represented the Belgian outfit (opens in new tab) in their formative years.
>>>Inside Lotto-Soudal's Service Course (opens in new tab)
"I was originally looking at moving to the South of France like Adam Yates (opens in new tab) did and I had a team all but sorted, a French DN1 team," Braybrooke told Cycling Weekly, "but Lotto came up with this offer and it was too hard to resist.
"I went out to meet DS Kurt Van de Wouwer and he persuaded me. He's also joint DS of the WorldTour team and that's great to have that link.
"Although I'm a climber I didn't want to be just climbing all the time. I thought that I needed to develop all areas and all disciplines, including racing crosswinds in Holland.
"Lotto have a great calendar next year, including racing in the French and Italian mountains. They have big international races. I hope, as a U23 first year rider, to get as many experiences as possible."
Watch: How much faster does a skinsuit make you?
Braybrooke has, on occasions, raced kermesses and one-day races in Belgium for the past two seasons, and with HMT has raced throughout Europe.
His winter plans include training camps in Spain and France, before moving to Belgium in February for the start of the season.
The permanent relocation to another country will be made easier by sharing a house with Shaw, who will be riding for Lotto for the second successive season. "I'm good friends with James so I've spoken to him quite a bit. Hopefully I'll be living in the same team house as him," he added.
"It'll be good to have another Brit on the team. Plus, he knows the native Flemish tongue and mine is non-existent."
Thank you for reading 10 articles this month* Join now for unlimited access
Enjoy your first month for just £1 / $1 / €1
*Read 5 free articles per month without a subscription
Join now for unlimited access
Try first month for just £1 / $1 / €1