Alex Dowsett: I haven't really recovered from the Tour of Britain
World Championships 2014: Alex Dowsett finishes 20th in time trial after disappointing ride in Spain.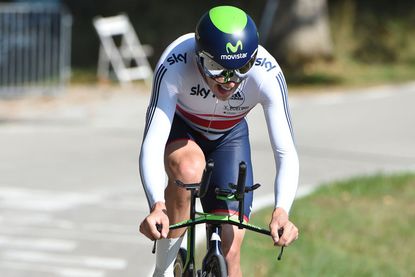 Alex Dowsett finished a disappointing 20th at the world championships time trial on Wednesday afternoon, citing fatigue from the Tour of Britain.
The 25 year-old finished 2:35.10 down on the rainbow jersey winner Bradley Wiggins after he suffered on the lumpy finale to the 47.1km course around Ponferrada.
"It felt like I had one pace, I just couldn't dig really deep when I wanted to," he said. "I feel like I haven't really recovered properly from the Tour of Britain, I've just been sort of fighting to get back on top of things since. Which is not what I wanted."
Dowsett, who recently signed a new three-year deal with Movistar, believed the time trial in Spain was "a real power-to-weight course," which ultimately played into Wiggins' hands more than his.
"I think the wind changed direction today; the first 12km we expected to be real easy, or just really fast, but it was a headwind, so it wasn't quite as easy as I thought it was going to be," he added.
"At the end you had to be able to lift the Watts, drop them, lift the Watts and drop them."
"I was looking at my power meter all the time. Unfortunately I was looking at it hoping it would say a bit more than it did."
Cycling Weekly podcast from the worlds
Commonwealth Games time trial champion Alex Dowsett inks new three-year deal with Spanishg team Movistar, through to end of 2017
Thank you for reading 10 articles this month* Join now for unlimited access
Enjoy your first month for just £1 / $1 / €1
*Read 5 free articles per month without a subscription
Join now for unlimited access
Try first month for just £1 / $1 / €1
Richard Abraham is an award-winning writer, based in New Zealand. He has reported from major sporting events including the Tour de France and Olympic Games, and is also a part-time travel guide who has delivered luxury cycle tours and events across Europe. In 2019 he was awarded Writer of the Year at the PPA Awards.