Archive footage shows daredevil rider tackling obstacles including actual fire
The BFI tweeted the footage earlier this week of the stuntman in action in 1974. Scroll on past the stunt riding for more of the best cycling videos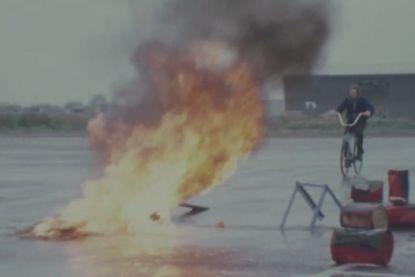 Never mind the action from the Red Bull Rampage, or the latest the video from Danny Macaskill, this daredevil from Gloucester was well ahead of the extreme sports curve.
Tackling such obstacles as stacked metal cans and a kerb sized ramp, these shenanigans were very popular with the locals looking on.
That's real fire he's riding through.
Misheard commentary is very funny
This hilarious video dubs over the commentators and competitors at the Red Bull Rampage, to hilarious effect.
"The tyrannosaurus rex, it would save the world." "Could I have some of that apple pie?!" "Toy Story 2 is not just a movie about toys."
Help a fellow rider
https://www.youtube.com/watch?v=66N463f4lwI
The latest video from regular helmet-cam user and YouTube enthusiast CycleGaz is a lesson in how we can all help our fellow riders.
Using the blue stripe that passes for a cycle lane near Clapham Common, the commuter spotted the likelihood of a turning motorist crossing the bike lane at speed after a flash from a stationary queuing vehicle.
>>> People who commute to work by bike should get £250 tax break, says British Cycling
The lead cyclist signalled to tell the following riders of the imminent danger, and as shown towards the end of the video, the message was effective and the recipient was very appreciative.
With substandard infrastructure (if there's any at all) the unfortunate norm, we cyclists should be extra-aware of how we can keep each other safe on the roads.
The cycling challenge of a lifetime
If you're looking for a new challenge and really want to push yourself by riding some of the toughest and best known climbs in cycling, the Haute Route could be the event for you.
This video talks you through how to train and prepare for this gruelling, but ultimately highly rewarding challenge.
The top 10 road riders of 2016
Here's our countdown of the top 10 road riders of this season. The winner will be obvious to most, but you can let us know in the comments below who would have made your best of the rest for the 2016 season.
Thank you for reading 20 articles this month* Join now for unlimited access
Enjoy your first month for just £1 / $1 / €1
*Read 5 free articles per month without a subscription
Join now for unlimited access
Try first month for just £1 / $1 / €1