Armstrong's behaviour reported to governing body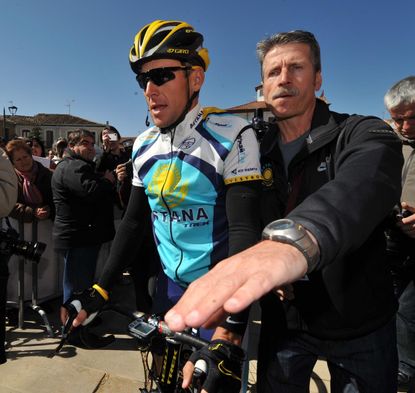 The French Anti-Doping Authority (AFLD) has filed a report on Lance Armstrong's behaviour during a recent out-of-competition drug test. Both the Union Cycliste Internationale (UCI) and World Anti-Doping Agency (WADA) have received the report.
The exact nature of the report has not been revealed, but it is likely that Armstrong was not happy to have an impromptu haircut.
The seven-times Tour de France champion was visited in Beaulieu-sur-Mer, France, on Tuesday, March 17, whilst training for July's Tour de France. AFLD inspectors requested the usual blood and urine samples, and also removed a sample of hair for analysis.
"Yet another 'surprise' anti-doping control," wrote Armstrong on his Twitter site a day later. "This one from the French authorities. Urine, blood, and hair! Classic..."
Armstrong had to get his hair cut short after the sample was taken as the testers had left it "butchered".
Neither the UCI or WADA take hair samples as part of their testing procedures, and the results from such tests are not recognised by either body. However, the AFLD does use data extracted from hair samples in the fight against drug cheats.
Armstrong is currently recovering at home in Austin, Texas, after surgery to repair a broken collarbone sustained during the first stage of last month's Vuelta a Castilla y Leon in Spain.
RELATED LINKS
Dope testers give Armstrong a haircut
Lance Armstrong: Rider Profile
Thank you for reading 20 articles this month* Join now for unlimited access
Enjoy your first month for just £1 / $1 / €1
*Read 5 free articles per month without a subscription
Join now for unlimited access
Try first month for just £1 / $1 / €1