Astana launches 'Ride for LiveStrong'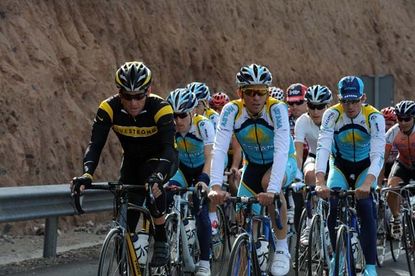 Lance Armstrong's Astana team has launched a new website, Ride for LiveStrong, outlining the squad's involvement in the seven-times Tour de France winner's global cancer initiative.
According to the site, Astana are aiming to raise US$275,000 in 2009 for global cancer research - this sum has significance as it represents one cent for every cancer death that occurred during Armstrong's retirement period - quoted to be 27.5million people.
Armstrong's welcome note on the site reads: "In 2009, 27 riders from 9 nationalities are teaming up to win races, but also increase cancer awareness internationally and raise money for my Foundation to support the cancer fight.
"Now is your chance to join me and Team Astana. There are various ways to get involved ? Donate to the Lance Armstrong Foundation in support of a rider, who will ride in honor or memory of a loved one for the 2009 season!
"Enter the Ride For LIVESTRONG race kilometer contest (free entry) to win great Team Astana prizes. And learn about how cancer affects people in countries around the world. It?s OUR time to make a difference!"
You can make a donation online, enter competitions, find out about Astana riders and their personal link to cancer, and more.
EXTERNAL LINK
Ride for LiveStrong: www.rideforlivestrong.com
Thank you for reading 20 articles this month* Join now for unlimited access
Enjoy your first month for just £1 / $1 / €1
*Read 5 free articles per month without a subscription
Join now for unlimited access
Try first month for just £1 / $1 / €1