Australian farmer is such a big Richie Porte fan that he's created a maze of the BMC rider
Undoubtedly the best Richie Porte maze you'll see this year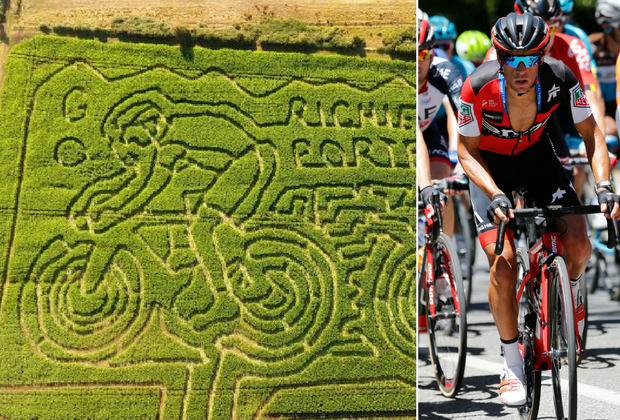 (Image credit: Rupertswood Farm/Sunada)
With most races taking part in the middle of the night, it can't be easy being an Australian cycling fan, but that hasn't stopped one Aussie farmer becoming such a big fan of Richie Porte that he decided to create a maze in the BMC Racing rider's honour.
Rowan Clark is the owner of Rupertswood Farm near Hagley in Porte's home state of Tasmania said that he had been planning the maze for a number of years.
"'I have been thinking of a Richie Maze for some years now," Clark said. "We are huge fans and love watching him race, particularly in July when the Tour de France is on."
"Richie is a great role model…always presents himself with spirit, courage and dignity…even under enormous amounts of pressure. Plus Richie seems like just a really nice guy."
>>> Watch: Mark Cavendish makes one young fan's day at the Tour of Britain
The maze has been designed by a maze design business called Mazescape, which is based in Weston-super-Mare, and is intended to show Porte leading the peloton up the Alps in the Tour de France.
The design apparently took Clark eight hours to mow into his crop, and suitably also includes a bike track for people to ride around the outside of the maze. There is also the choice of a "mini maze" around Porte's front wheel, or the main maze through the rest of the design.
The maze also pleased Porte himself, with the rider saying that he was impressed by the "incredible detail" as he gave the Tasmanian farm a nice bit of publicity by sharing details of the maze on Facebook.
https://www.facebook.com/richieporteofficial/posts/1838574909499598
The maze will open to the public on February 24, while Porte will start his season at the Volta ao Algarve, which starts on February 14, as he begins his preparation for the Tour de France in July.