BBC Radio 1's Greg James finishes charity cycle ride in 'absolutely awful' conditions
Greg James finishes the final cycling leg of his 'Pedal to the Peaks' charity challenge, riding in the dark in the Scottish Highlands in terrible weather conditions - Photos by Ed Smith/Comic Relief Ltd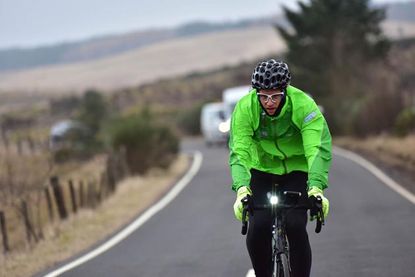 (Image credit: Ed Smith/Comic Relief Ltd)
Radio 1 presenter Greg James has finally finished the last cycling leg of his 'Pedal to the Peaks' challenge in aid of Sport Relief.
James set out to hike up Snowdon, Scafell Pike and Ben Nevis and cycle between each one to raise funds for the annual charity event and raise awareness for young people's mental health.
However, his first attempt two weeks ago was cut short after he tackled Scafell Pike and then the 'Beast of the East' snowstorm struck at full force.
>>> BBC Gregathlon Pedal to the Peaks page
Despite having crested two of the three peaks and cycled 360 miles in blizzard conditions, he had to stop as the road conditions were unsafe to continue.
The challenge re-started on Wednesday this week as James sought to complete the 180-mile ride to Ben Nevis in a day and a half and tackle the final mountain climb on foot.
Bad weather struck again in the form of high winds, rain and more snow – which James described as "absolutely awful".
So far, James has raised in excess of £1million.
>>> Radio 1's Greg James forced to postpone Sport Relief cycle/mountain climb due to weather
"Honestly, the most physically demanding thing I've ever done," he said on Twitter on Thursday.
"More difficult than the first 3 days with the Beast from the East. Bizarre. I am completely exhausted. 180 miles in a day and half. Done."
https://www.youtube.com/watch?v=dGkGEuq_hIU
James has been spurred on my messages of support and the occasional group of roadside supporters cheering him on his way.
One message of support came from Coldplay front man Chris Martin, who recorded a video of himself singing – topless and in a wig – the phone number for people to donate money for James's challenge.
James reached the peak of Ben Nevis at around 2pm on Friday, and completed the descent by early evening to finish his Pedal to the Peaks challenge.
Thank you for reading 20 articles this month* Join now for unlimited access
Enjoy your first month for just £1 / $1 / €1
*Read 5 free articles per month without a subscription
Join now for unlimited access
Try first month for just £1 / $1 / €1