Big interview: Emma Pooley
After taking a step back from the top tier of the sport to finish a PhD, Britain's Emma Pooley is returning to full-time racing in 2014. As she made the final touches to her pre-season training, Richard Abraham caught up with the former world time trial champion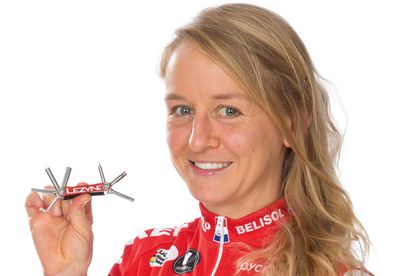 Get The Leadout Newsletter
The latest race content, interviews, features, reviews and expert buying guides, direct to your inbox!
Thank you for signing up to The Pick. You will receive a verification email shortly.
There was a problem. Please refresh the page and try again.
Hi Emma, how's the winter training going?
Emma Pooley: It's hard, but I'm enjoying it. I'm in Perth, Australia, where I spend most winters. I'm out here for three months because I don't start racing until quite late on in the season. I've also got family here, and I even had an academic conference out here at the University of Western Australia. It is a bit too hot though; it was 44°C the other weekend, which was a bit of a shock.
With your PhD out of the way, can we now call you Dr Pooley?
EP: It's done, but officially you can't yet call me Dr Pooley. I still haven't submitted the obligatory copy to the University library. It came away from the printers the day after I left for Australia. Although, if I fly with an airline I might put it as my title in the hope that I get upgraded.
How have you found your first month with your new Lotto-Belisol team?
EP: I've not ridden with my team-mates yet, but I went to the team launch in December and actually it was really fun. I got a really good impression of the team and the set-up and just the general feeling. I'm really looking forward to racing with them.
You've got the same sponsors as the men's team, but how integrated are you with the men's set-up?
EP: I don't think very [integrated], but even just sharing a name is really good because it counts for a lot in terms of recognition and interest. I think we can give a lot back to men's teams too, from my experience with Cervélo Test Team [2009-2010]. All the feedback from male riders was really positive. I think [mixed teams] just makes the whole team a bit more cheerful.
"There's a really good vibe about women's cycling — it just needs a bit of time"
What are you most looking forward to about 2014?
EP: I'm most looking forward to training and racing full-time again; I did miss it. I'm not going to be sitting around going, "Oh, I'm bored," but I'm looking forward to getting a bit more sleep. Race-wise, I'm really looking forward to the Women's Tour, which I hope I'll be riding. Then there's the Giro Rosa and the Commonwealth Games, if I get selected.
What is it about the Giro that appeals to you?
EP: I've come second twice. It is unfinished business. I don't want to sound arrogant about it, but it is a target and I wouldn't target anything to come second. In retrospect, coming second was great but at the time it was really disappointing.
The Giro has a couple of mountain stages in it, which not all our races do have. It suits me as a rider and it's one of the longer races on the calendar. And I haven't won it.
Given that the future of this year's Giro remains uncertain, is it hard to prepare for races that you don't actually know will go ahead?
EP: Exactly. It's a bit distressing. It's not because there is no one who can be bothered; the people that run the Giro are passionate and care strongly about women's cycling and run an awesome race. The problem is the finances of it.
It's not their fault — it's no one's fault — but it's not much fun. It's perhaps something that people in the men's sport don't realise: how difficult it can be when all the races you want to ride could just disappear. It's a shame but, without getting back on my high horse, there are changes afoot and I think [UCI president] Brian Cookson has put the wheels in motion.
How do you rate Brian Cookson's first few months in office?
EP: He's got an awful lot on his plate, and he's made a good start in terms of the anti-doping fight. Sure, there are a few women taking drugs in cycling, but women's cycling has definitely been tainted by the bad reputation [of the men's sport].
I'm on the UCI Women's Commission and I think it is on the right track in terms of televising women's road cycling [the UCI is part funding TV production for the 2014 World Cup]. It should be commercially viable, but in order to get that going, it needs some kind of kick up the backside in terms of media coverage.
Is the main goal of the Women's Commission improving media coverage?
EP:
That's the impression I get, so far. At the moment it's a vicious cycle in women's road cycling, in that it doesn't get seen, sponsors aren't interested, so races disappear.
Every four years people watch the Olympic road race and say: "Wow, this is really exciting, where can I watch more of this?" and I say, "Wait another four years." When it's on television and it has the viewing figures, then sponsors will be interested. And I think gradually more and more men's races will want to have a women's race, and that will be really good for women's racing.
Are you optimistic?
EP: I think a lot of people in the world of bike manufacturers are dying for more women's coverage because it's a huge growth market. I'm fed up of being labelled as some sort of whinger, just because I've asked for improvements. There's a really good vibe in women's cycling, [but] there's that single step to being seen. I'm being really positive about it; it just needs a bit of time.
In 2013 Marianne Vos was again the top rider, and by some margin. Is her dominance potentially a bad thing for women's cycling?
EP: I don't think so; she is probably the best female cyclist there has ever been. I can see what you mean, the danger is that women's cycling becomes a bit one-dimensional, but she is just quite exceptional.
I'm happy that anyone is reporting on our races, and about tactics rather than what so and so was wearing. How to beat Marianne is all about the sport and the tactics and the excitement of it, and I think that's a good thing.
So, how do you beat her?
EP: I'm not sure: ask me when I've succeeded! You have to be as fit as her, which is not easy because physically she is extremely strong.
I think you also have to let her exhaust herself. She has been beaten in the last few years, and not just when she had no team-mates. In La Flèche Wallonne in 2012 she chased too much because she was nervous, because she wanted to win. She's not stupid, and she's a lot less nervous than me in races.
Is it frustrating?
EP: I'm a bit unlucky that I'm racing against her, but on the other hand I'm privileged to
race against her. I'll look back on it when I'm an old woman and say that I raced against the best cyclist in the world.
It's hard to describe how frustrating but also how nice it is to race against her; she's a lovely person and I can't think of anything nasty to say about her. Except that I wish she wouldn't beat me all the time!
Thank you for reading 20 articles this month* Join now for unlimited access
Enjoy your first month for just £1 / $1 / €1
*Read 5 free articles per month without a subscription
Join now for unlimited access
Try first month for just £1 / $1 / €1
Get The Leadout Newsletter
The latest race content, interviews, features, reviews and expert buying guides, direct to your inbox!
Richard Abraham is an award-winning writer, based in New Zealand. He has reported from major sporting events including the Tour de France and Olympic Games, and is also a part-time travel guide who has delivered luxury cycle tours and events across Europe. In 2019 he was awarded Writer of the Year at the PPA Awards.