Bike Blenheim Palace 2010: Photo special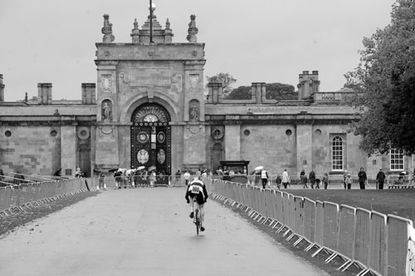 Torrential rain and high winds didn't deter thousands of cyclists from turning up to take part in the third Bike Blenheim Palace event at the stately home in Oxfordshire on Sunday.
This year's event in aid of Breast Cancer Care featured a full range of cycling events, including cyclo-sportive, Brompton World Championships, cyclo-cross, time trial, family rides and more.
Cycling Weekly photographer Andy Jones donned his full waterproof outfit to capture a great day out.
External link
Bike Blenheim Palace official website
Angel ride duo get set for the cyclo-sportive in retro-style
Ready for some bad weather: riders line up for the cyclo-sportive start
Time trial start line
Andrew Griffiths, second in the time trial
Matt Bottrill, time trial winner
Carl Saint, tricycle time trial world champion
Changing gear
Regal backdrop
Trials action from the Mountainbike Aerial Display team in the arena
Stu Bowers wins the cyclo-cross
On your marks... The Brompton World Championships Le Mans-style start
Brompton World Championships in full flow
Men's Brompton World Champion Philip Curran in action
Women's Brompton World Champion Rachael Elliott on the podium
Bedraggled: Post-race comedown
Evel Knievel pops a wheelie
All ages are welcome to ride at Blenheim Palace
Thank you for reading 20 articles this month* Join now for unlimited access
Enjoy your first month for just £1 / $1 / €1
*Read 5 free articles per month without a subscription
Join now for unlimited access
Try first month for just £1 / $1 / €1