Bikes from Lance Armstrong movie to be sold off
UK bike shop Ultimate Cycles to sell off replica bikes used in the upcoming Armstrong biopic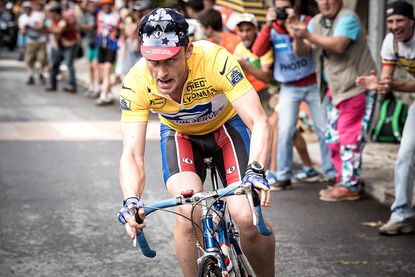 Bikes used in the upcoming Stephen Frears directed biopic of Lance Armstrong are set to be sold off to the public by UK bike shop Ultimate Cycles.
The shop has sourced more than 100 bikes to sell, with the film now in the post-production phase of development.
>>>>See the gallery of our favourite bikes from the auction, and their original incarnations
Very little information has been revealed about the (still untitled) film, which is set to centre around Sunday Times journalist David Walsh's (played by Chris O'Dowd) pursuit of Armstrong (Ben Foster), believing that he'd doped his way to victory in seven Tours de France after overcoming testicular cancer.
London bike brand Condor built many of the bikes for the film, including replicas of Team Telekom's Giant TCS bikes and Armstrong's former Motorola Eddy Merckx bikes, however there are still around 70 that are not available for sale.
Iain Ferguson of Ultimate Cycles told BikeRadar (opens in new tab) that prepping the bikes for sale was a big project, but one they were relishing.
"Roughly half the bikes are now listed on ultimatecycles.co.uk and it's a daily project, a very fun one, to get them prepped and ready to go!" he said.
"The stock list includes 30-plus Condor Classico and Italia RC bikes painted to look like everything from Merckx to Giant and MBK, 12 Pitangos (used on roof racks in the caravan), 20 Trek 5000 up to Madone, then Pinarello, De Rosa, MBK, Gazelle, Peugeot, Cannondale, Specialized, Fausto Coppi, Giant, Look, Eddy Merckx, Lohber, Lemond. Even mountain bikes from Armstrong's early career. It's a bit of a treasure trove."
You can find out more about getting hold of one of the replica bikes at the Ultimate Cycles website.
A release date for the Armstrong biopic has not been confirmed, but its rumoured to be premiering in the UK.
More Lance Armstrong stories
Five-time Tour de France winner Bernard Hinault says he wouldn't talk to Lance Armstrong if presented with the opportunity.
Lance Armstrong admits that he rarely rides his bike any more and wants to move on with his life after
Thank you for reading 5 articles this month* Join now for unlimited access
Enjoy your first month for just £1 / $1 / €1
*Read 5 free articles per month without a subscription
Join now for unlimited access
Try first month for just £1 / $1 / €1