"There is potential for redemption for Lance Armstrong" says Brian Cookson
UCI president says that there is a potential way back for anyone in cycling if they're willing to cooperate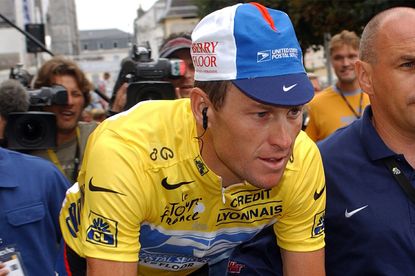 UCI president Brian Cookson has said that there is a possible route to redemption for Lance Armstrong, which depends on how he has cooperated with the Cycling Independent Reform Commission's (CIRC) investigation into past doping in the sport.
"I think that there is potential for redemption for him [Armstrong] and anyone, really" Cookson told VeloNews.
"I think it all depends on what he said to the commission and if he was prepared to talk about his or other people's involvement and whether he's genuinely contrite and deserving of redemption."
Armstrong was stripped of the seven Tour de France titles he won between 1999 and 2005 and received a lifetime ban from the sport in 2012, after a United States Anti-Doping Agency (USADA) investigation which used sworn testimony from former teammates of the Texan.
Armstrong subsequently admitted to prolific doping through his career in early 2013, while it was reported in July 2014 that he had sat down for talks with the CIRC panel.
"I think it has to be said that what Lance did, not that he was the only one or only one involved, but it all depends on what Lance said to the commission and what they come up with," said Cookson.
"We have to acknowledge and approve of any redemption in the sentence in the sanctions that he got. I think that [USADA CEO] Travis Tygart has been saying the same sort of thing anyway and I don't think there is any conflict there between USADA, but let's see what Lance has been saying to the commission."
The CIRC panel is due to release a report on its findings in January 2015, and Cookson says that the aim is to expose the wider culture of doping in that era beyond just what the US Postal Service Team were doing.
"Armstrong and US Postal weren't the only team involved in doping," he said.
"All of the information that comes out of that [the CIRC report] will be helpful going forward. We need to have a mechanism that can look at the sport and decide who can stay in the sport and who needs to be thrown out.
"And when we have that mechanism, it needs to be robust and sustainable in court, and I can guarantee that if we excluded someone from their main source of income, that they'll challenge it. So we need to make sure that what we do is truly defensible."
UPDATE: Armstrong confirmed to CyclingNews on Tuesday that he would be sitting down with the CIRC panel once again in the coming weeks to help with their investigation.
He said: "I've always said I will make myself fully available to an international commission tasked with helping our sport heal and move forward after multiple generations of rampant doping."
Armstrong will be hoping to have his lifetime ban reduced, with the UCI having offered to give reduced bans to those who confess and cooperate with their investigation.
UCI president and former member of the team's operating board says homegrown riders are not being developed by the squad.
Thank you for reading 20 articles this month* Join now for unlimited access
Enjoy your first month for just £1 / $1 / €1
*Read 5 free articles per month without a subscription
Join now for unlimited access
Try first month for just £1 / $1 / €1