Boonen to return to racing next week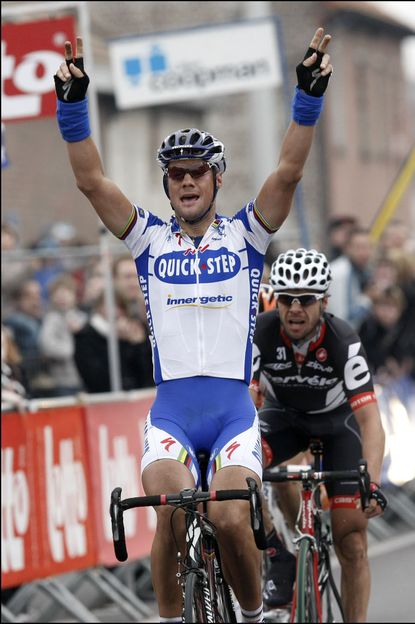 Tom Boonen is to return to competitive cycling next week, after being suspended by his Quick Step team as a result of failing an out-of-competition test for cocaine.
Boonen was suspended by the team after he was found to have taken cocaine recreationally - the second time the rider has tested positive for the drug in out-of-competition tests in less than a year.
The former world champion and triple Paris-Roubaix winner will take part in a race in Gullegem, Belgium, on June 2 before lining up for the Dauphine Libere (June 7-14).
Quick Step hope that Boonen will be allowed to ride in this year's Tour de France, and are prepared to fight for his place at the event. According to a report from the Associated Press, Quick Step team manager Patrick Lefevere will take the case to an arbitration court in Paris to obtain a ruling allowing Boonen to ride.
Last year, Tour de France organiser ASO refused Boonen a place at its race as a result of his cocaine positive. Although an out-of-competition failure for cocaine does not draw a sanctions or a suspension from the Union Cycliste Internationale (UCI), ASO felt that Boonen had brought the sport into disrepute. ASO has already stated that Boonen is not welcome at this year's Tour, particularly as it's a repeat offence.
Boonen has signed up for a year's therapy after admitting that he has a drink and drug problem, and sees an expert once a week. He is tested for cocaine every two weeks to ensure that he stays clean.
Cocaine use in Belgium can carry a sentence of up to five years in prison, and Boonen may still face criminal charges as well as a possible six-month sporting ban from the UCI for bringing the sport into disrepute.
RELATED LINKS
Boonen to go into therapy
Boonen admits to drink problem, suspended by team
Will Boonen be barred from the Tour again after second cocaine positive?
Thank you for reading 5 articles this month* Join now for unlimited access
Enjoy your first month for just £1 / $1 / €1
*Read 5 free articles per month without a subscription
Join now for unlimited access
Try first month for just £1 / $1 / €1