Boulder Roubaix 2017: The Roubaix you can ride closer to home
The Boulder Roubaix is now in its 26th year, and offers riders the chance to test themselves on some demanding, mixed terrain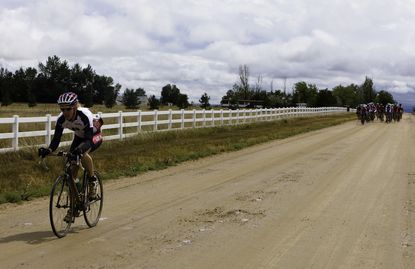 Taking place the day before the famed Paris-Roubaix, featuring mountainous backdrops, unpredictable Colorado Rocky Mountain weather and plenty of gravel roads, is the Boulder Roubaix.
>>> Taylor Phinney: Tour of Flanders is 'Super Bowl Sunday of bike racing'
Entering it's 26th year, there's no cobblestones here (except for the winners's trophies), but the course features an 18.7-mile loop that is nearly sixty-percent hard-packed dirt roads.
Racers of all ages and skill levels descend onto this North American cycling mecca town from 15 surrounding states to tackle this challenging spring classic.
"The course takes in some amazing, beautiful scenery," explains Chris Grealish, owner of DBC Events, a cycling event promotions company. Grealish expects nearly 1,000 racers to participate this year across 31 different racing categories, making it one of the largest one-day amateur cycling races in North America.
Over the years, various iterations of the race have occurred, but one thing has always remained the same – steep, hilly dirt climbs.
Many continental pros use the race as a warm-up for one of the toughest stage races on the American calendar, the UCI 2.2 Tour of the Gila, which falls on the following weekend this year.
Former professional rider for United Healthcare and the defunct Canadian squad SpiderTech, Lucas Euser, has fond memories of the race from 2010.
"The Boulder Roubaix is an iconic Front Range Colorado event; a gravel grinder pioneer," said Euser. "I only had the opportunity to do it once in my career, but it stands out as one of the best local race I've ever done.
"It brings life and energy to roads I would train on daily."
In addition to the difficult course for the racers, fans and families can enjoy non-cycling festivities including a plethora of food trucks and a beer garden.
With the start/finish line located only ten minutes from the city of Boulder, the crowds tend to grow throughout the day with the anticipation of the pro finish in the early afternoon.
Online registration closes on Wednesday, April 5 at 5pm MST and limited race-day registration will be available if categories are not completely full. For more info, click here.
Thank you for reading 20 articles this month* Join now for unlimited access
Enjoy your first month for just £1 / $1 / €1
*Read 5 free articles per month without a subscription
Join now for unlimited access
Try first month for just £1 / $1 / €1