British Paralympian sets up crowdfunding page to replace stolen cycle
Great Britain Rio Games athlete Hannah Dines had her car stolen and set alight, which contained her one-off racing trike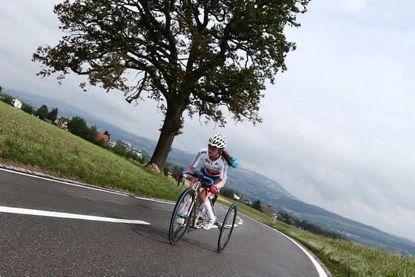 (Image credit: Hannah Dines/Facebook)
Great Britain Paralympic cyclist Hannah Dines is appealing for help in raising money to replace a stolen racing trike.
Glaswegian Dines reports that her house was broken into on New Year's Eve, with thieves taking her car keys. They then stole her car, which contained her trike, crashed the vehicle and set it alight.
The car and its contents were completely incinerated in the incident, and the trike could not be salvaged. Her insurance did not cover the cost of a replacement.
"It was adapted to me," Dines said of the trike on her crowdfunding page. "I have cerebral palsy which affects the way my legs, my torso, back, hips and my left arm are controlled by my brain, I also have poor balance and dodgy joints. I look like a twisty pretzel when I cycle. A really fast and athletic looking pretzel who trained her ass off to compete in the Rio Paralympics in 2016. "
Dine competed in the T2 trike event in Rio, and is aiming for selection for the 2020 Paralympic Games in Tokyo.
>>> Olympic/Paralympic Games: News and info
Dines continued: "Anyone who knows me, knows how much I love my racing… there is an obscene amount of passion... it is in my eyes and my smile. I do it because I love it and I will do it till I die, not just until I get a Paralympic gold medal."
"Without a race trike I will struggle when my racing season begins in May 2017. I am a full time athlete and will have to fund my races independently this season."
Olympic team pursuit gold medallist Katie Archibald has got behind the campaign to raise funds for Dines, saying via Twitter: "Hannah's having a crap time. Her trike stolen and her UK Sport funding cut. You can help fund a replacement trike".
Dines has a target of raising £7,454 via the Go Fund Me website. So far she has raised £2,660 since the appeal went live on Thursday, February 9.
Dines says that everyone who gives her a donation will have their name written on the replacement machine. Any excess funds will be donated to Neil's Wheels, which assists in providing equipment to young sportspeople with disabilities.
Thank you for reading 20 articles this month* Join now for unlimited access
Enjoy your first month for just £1 / $1 / €1
*Read 5 free articles per month without a subscription
Join now for unlimited access
Try first month for just £1 / $1 / €1