BRITS BLAST TO GOLD IN TEAM SPRINT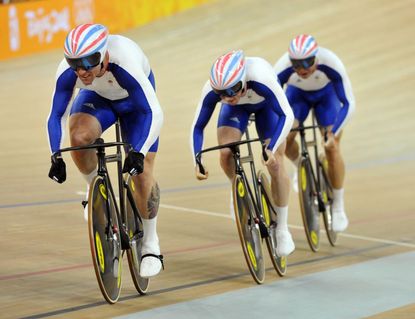 What a night for British cycling - and British sport. Chris Hoy, Jason Kenny and Jamie Staff outgunned old enemies France for gold in the team sprint, starting what could be an avalanche of medals on the track.
Half a second slower than the French in Manchester in the final, at Beijing, less than six months later, the boot was very much on the other foot.
Britain?s trio truly hit the ground running with a blistering qualifying round which took the World?s Best time to a devastating 42.950 seconds - the first time any team sprint has gone under 43 seconds in a 250 metre velodrome.
After easily seeing off the United States in the first round, Great Britain faced top favourites France in the finals, but came through smiling.
A devastating first lap by veteran Jamie Staff - his time of 17.136 constitutes an unofficial world record of his own - was followed by an impressively strong second lap by Jason Kenny. Bolton-born Kenny may be just 20 years old but to judge by the gap he opened on Hoy, he is already in a class of his own.
Last but not least came Hoy himself - surely en route for an triple of Olympic medals - and another devastating ride, which left the French more than half a second behind. Britain?s first gold medal on the track was home and dry.
There was poetic justice of all types in this particular victory too: the trio?s devastating first round came when they were paired with Germany, the team which knocked the Brits out of Athens in 2004. And the final showdown came against France, who have made World Championships team sprint golds virtually their private property in recent years, and who had won at Athens.
Asked about their ultra-strong qualifier, Hoy pointed out that ?you have to come in and commit from the word go. You never know how the other teams are going to perform.?
?It was a massive boost. To put three laps which indvidually were the quickest ever in the world, to get that all together on the same day, that?s not easy to do.?
?It feels good to be on the top level of the podium for a change after the French have dominated this one for so long.?
?It?s the best way to start but I?m not thinking before tomorrow and my first day in the keirin. It?s not about thinking about other teams, it?s purely about performance.
I was struggling to hold Jason on second last lap, but that?s a sign of the times.
The speed these guys are going you have the choice of giving it too much and risking using up too much energy or you can pace yourself and give yourself a bit of shelter which is what I was doing. And the tactic worked out.
I?m always surprised when we do so, but currently everybody?s riding a level beyond what they?ve ever done before.?
How important is such a flying start for the British track team - coming hard on the heels itself of Pooley?s silver and Cooke?s gold on the road?
?It?s huge.? argued British coach Shane Sutton. ?You think about what it was like for the Aussies when they had that great start in the 2004 Olympics. That gave them a huge lift right from the word go.?
?Hopefully that great start today will be what we can build on for the rest of the Olympics.?
?We come back and start again tomorrow.? added Dave Brailsford.
?I think the French honestly thought they were going to win this, and that?ll be a real kick in the teeth for them.?
?We haven?t hit our bankers yet and that?s what really matters. We?re on the way now.?
Swipe to scroll horizontally
OLYMPIC GAMES 2008: TRACK
As it happened on Friday: Gold for team sprint trio; Wiggins, Houvenaghel and Romero well in control
Burke blasts to new individual pursuit PB
British track stars raring to go
What makes the Laoshan such a challenge
Picture special: CW takes you inside the Laoshan velodrome
Can these legs make an Olympic champion?
Cavendish unlikely to ride individual pursuit
Swipe to scroll horizontally
Positive test for cyclist at Olympic Games
Bettini chasing second Olympic gold
Romero poses nude for ad
British quartet eyeing new world record
As Olympics approach two new drugs emerge
Beijing Blog
Beijing Blog 2
Beijing Blog 3
Swipe to scroll horizontally
Picture special: Women's time trial
Cancellara wins men's time trial gold
Men's time trial reaction: Steve Cummings on his ride
Women's time trial reaction: I feel fantastic, says Pooley
Pooley wins silver in women's time trial
Cooke's secret was the skinsuit
What the papers say... about Nicole Cooke
Analysis: women's road race
Gold for Nicole Cooke in Women?s road race
Reaction: It?s a dream to win Gold, says Cooke
Women's Olympic road race picture special
Sanchez gives Spain gold in thrilling men?s road race
Who is Samuel Sanchez?
Tactical analysis: Reading the men?s Olympic road race
British riders suffer in hot and humid Olympic road race
Rebellin misses out on golden birthday
Brailsford confident ahead of women?s road race
Swipe to scroll horizontally
OLYMPIC GAMES 2008: GUIDE
Olympics cycling results>>
Cycling event schedule>>
Great Britain rider profiles>>
Cycling event guide>>
Photo gallery>>
British Olympic cycling medal winners>>
From paupers to kings: The lottery funded revolution>>
Thank you for reading 20 articles this month* Join now for unlimited access
Enjoy your first month for just £1 / $1 / €1
*Read 5 free articles per month without a subscription
Join now for unlimited access
Try first month for just £1 / $1 / €1