BRITS ON FORM AT MTB WORLD CUP IN SCOTLAND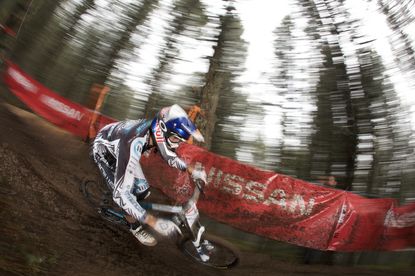 It may not have been the gold rush that many had been predicting, but the British riders certainly made their presence felt at the Fort William mountain bike World Cup this weekend (June 6-8).
Tracy Moseley came away with the gold medal in the women's downhill even on Sunday, with Rachel Atherton giving Britain another place on the podium with a fine third. France's Sabrina Jonnier was second. Also making the top ten was British rider Fionn Griffiths, who placed eighth.
?It?s an amazing feeling to win in front of a home crowd," Moseley said after her victory. "The crowds have been wicked and I?m delighted I?ve proved I still have what it takes."
In the men's downhill British riders Gee Atherton and Steve Peat came second and third respectively, but the duo couldn't do enough to stop South African Greg Minnaar from winning another World Cup by just three seconds over Atherton.
Two further British riders also contributed to the men's downhill top ten - Dan Atherton in sixth and Scottish rider Ben Cathro in eighth.
In Saturday's cross-country event, the majority of riders present were testing their legs ahead of the Olympic Games XC event in August. Britain's Oli Beckingsale placed a fine ninth in a competition dominated by the Swiss, who filled all three places on the podium with Florian Vogel winning the round. The women's XC event was won by Canada's Marie-Helene Premont.
On Friday night Britain's Dan Atherton took bronze in the four cross event in front of thousands of spectators. Aussie four cross specialist Jared Graves took top honours, with Czech rider Jara Horakova winning the women's race.
Once again, the event was also voted a winner by the thousands of spectators who turned out to watch a full programme of racing over the weekend. The Fort William round of the World Cup has established itself as one of the very best on the MTB World Cup circuit.
The UCI mountain bike World Cup is a series of up to 10 events. Each round runs over three days with a World Cup event held every day, along with lots of other activities in and around the World Cup Village. All of the this weekends World Cup events took place in or around the Nevis Range ski area and the Leanachan Forest, 9km from Fort William.
MEN'S DOWNHILL: RESULTS
1. MINNAAR Greg (RSA) 4:43:52
2. ATHERTON Gee (GBR) 4:46:69
3. PEAT Steve (GBR) 4:47:42
4. RENNIE Nathan (AUS) 4:48:19
5. HILL Samuel (AUS) 4:48:70
6. ATHERTON Dan (GBR) 4:49:76
7. LEOV Justin (NZL) 4:52.38
8. CATHRO Ben (GBR) 4:52:40
9. BLENKINSOP Samuel (NZL) 4:52:97
10. PASCAL Mikael (FRA) 4:53:87
WOMEN'S DOWNHILL: RESULTS
1. MOSELEY Tracy (GBR) 5:20:87
2. JONNIER Sabrina (FRA) 5:25:01
3. ATHERTON Rachel (GBR) 5:26:76
4. SUEMASA Mio (JPN) 5:35:64
5. BUHL Melissa (USA) 5:45:19
6. GROS Celine (FRA) 5:45:57
7. NICOLE Myriam (FRA) 5:46:14
8. GRIFFITHS Fionn (GBR) 5:46:47
9. MOLCIK Anita (AUT) 5:49:05
10. PRUITT Kathleen (USA) 5:52:24
MEN'S CROSS-COUNTRY: RESULTS
1. VOGEL Florian (SUI) 2:06:27
2. SCHURTER Nino (SUI) 2:06:28
3. SAUSER Christoph (SUI) 2:06:36
4. FUGLSANG Jakob (DEN) 2:07:14
5. STANDER Burry (RSA) 2:07:27
6. NYS Sven (BEL) 2:07:46
7. SOUKUP Christoph (AUT) 2:07:47
8. KESSIAKOFF Fredrik (SWE) 2:07:48
9. BECKINGSALE Oliver (GBR) 2:07:58
10. GUJAN Martin (SUI) 2:08:23
WOMEN?S CROSS-COUNTRY: RESULTS
1. PREMONT Marie-Helene (CAN) 2:00:42
2. FULLANA Margarita (ESP) 2:00:56
3. SPITZ Sabine (GER) 2:03:53
4. BYBERG Lene (NOR) 2:04:02
5. LEBOUCHER Laurence (FRA) 2:04:16
6. LIU Ying (CHN) 2:04:36
7. KLEMENCIC Blaza (SLO) 2:05:31
8. DAHLE FLESJAA Gunn-Rita (NOR) 2:05:39
9. HENZI Petra (SUI) 2:05:41
10. RUSCA Maroussia (SUI) 2:06:02
4X MEN: RESULTS
1. GRAVES Jared (AUS)
2. WICHMAN Joost (NED)
3. ATHERTON Dan (GBR)
4. PROKOP Michal (CZE)
5. TSCHUGG Guido (GER)
6. ALVAREZ DE LARA LUCA Raphael (ESP)
7. FISCHBACH Johannes (GER)
8. GRACIA Cedric (FRA)
4X WOMEN: RESULTS
1. HORAKOVA Jana (CZE)
2. SEYDOUX Rachel (SUI)
3. BEERTEN Anneke (NED)
4. BUHL Melissa (USA)
5. LABOUNKOVA Romana (CZE)
6. SUEMASA Mio (JPN)
7. MOLCIK Anita (AUT)
8. HUNTINGTON Sarsha (AUS)
EXTERNAL LINKS
Official event website: www.fortwillamworldcup.co.uk.
Union Cycliste Internationale: www.uci.ch.
Thank you for reading 20 articles this month* Join now for unlimited access
Enjoy your first month for just £1 / $1 / €1
*Read 5 free articles per month without a subscription
Join now for unlimited access
Try first month for just £1 / $1 / €1