'Brutal' time trial was a learning experience for Brit Hayley Simmonds
Hayley Simmonds describes her Great Britain debut at the 2015 UCI World Championships time trial, where she finished 26th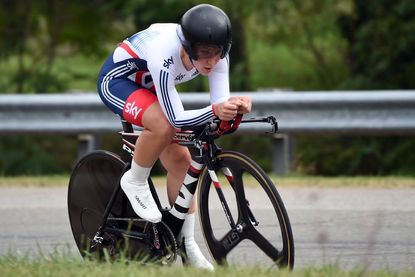 (Image credit: Watson)
Hayley Simmonds made her World Championships debut for Great Britain yesterday, riding in the elite women's time trial in Richmond, USA - an event that she described as a 'tough slog'.
British time trial champion Simmonds said that she gave it everything over the 29.9-kilometre course, which comprised two laps of a 15km circuit.
>>> Linda Villumsen wins World Championships elite women's time trial
"I would have liked to have done a bit better but I couldn't have got anything else out today and it was a massive learning experience for me coming here," Simmonds told the British Cycling website.
"The wind over the bridge was really hard coming back so it felt fast over the James (river) and then as soon as you came up the chicane and back onto the bridge it was brutal headwind so that was a really tough slog."
Simmonds was Britain's sole representative in the race, and finished in 26th place, two minutes and 54 seconds behind winner and new world champion Linda Villumsen of New Zealand.
It's a solid debut for the 27-year-old on which to build for future years - but the former rower-turned-cyclist may need to get used to having a dedicated team around her.
>>> How Hayley Simmonds became Britain's top time triallist
"I'm not really used to being looked after quite so much so I was almost going to get my own stuff ready and then it's 'no, no, no, its fine, we'll do it for you,'" Simmonds said.
Simmonds will now take part in the women's road race on Saturday, where she will play a supporting role for Great Britain leader Lizzie Armitstead.
Thank you for reading 5 articles this month* Join now for unlimited access
Enjoy your first month for just £1 / $1 / €1
*Read 5 free articles per month without a subscription
Join now for unlimited access
Try first month for just £1 / $1 / €1