'You can't help cheering, we've all longed to do it': Journalist's response to video of cyclist being pushed into ditch
Cyclist was "fully in control" as he careered into ditch, according to conservative journalist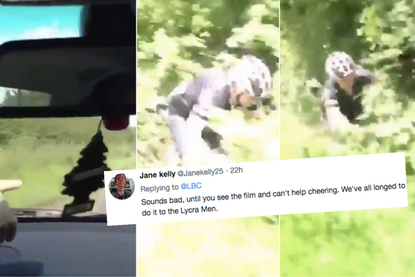 You might think that a video of a cyclist being pushed off his bike and into a ditch by a man in a passing car might receive universal condemnation, but after broadcaster, journalist and cycling campaigner Jeremy Vine posted such a video on social media on Tuesday, that unfortunately wasn't the response from everyone.
>>> Essex cyclist suffers nasty facial injuries after car passenger pushes him off bike during time trial
Vine posted an old video of a car passenger leaning out of the window to push a cyclist into a ditch, laughing with the driver as he did it, which was subsequently picked up by a number of media outlets including radio station LBC.
The vast majority of social media users who responded to Vine and LBC's tweets were appalled by the video, but not journalist and painter Jane Kelly, who decided that a cyclist being pushed into a ditch and potentially injured was something worth celebrating.
Kelly, who writes for conservative political magazines The Spectator and The Salisbury Review, and has previously contributed to The Daily Telegraph and the Daily Mail, was quickly criticised by fellow journalists, including Peter Walker, The Guardian's political correspondent who frequently comments on cycling, and chief sports writer at The Times, Matt Dickinson.
Despite the negative response to her tweets, Kelly continued to defend her opinion that the men in the car should be applauded for pushing the cyclist into the ditch, saying that the cyclist was "in full control of his bike" as he crashed at high speed into the ditch.
She also wrote that "as far as I can see, no one was hurt in the incident" and that the cyclist "didn't even wobble" (despite the fact that the video shows him going over the handlebars into the ditch.
This seems to be Kelly's first contribution to the world of cycling, but she has been no stranger to controversy over the years, including being sacked by the Daily Mail after a painting of hers featuring serial killer Myra Hindley was exhibited in Liverpool.
Thank you for reading 20 articles this month* Join now for unlimited access
Enjoy your first month for just £1 / $1 / €1
*Read 5 free articles per month without a subscription
Join now for unlimited access
Try first month for just £1 / $1 / €1