Cavendish ready and waiting for Ghent-Wevelgem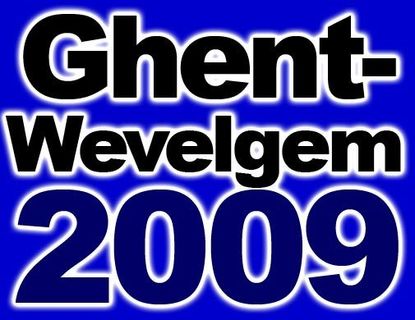 CW reporter Lionel Birnie will be Twittering from the Columbia-Highroad car - go to www.twitter.com/cyclingweekly
Mark Cavendish says he is ready for action for the Ghent-Wevelgem Classic on Wednesday, and more than determined to put the disappointment he felt about the 2008 race behind him for good.
Speaking to Cycling Weekly in Columbia-Highroad?s hotel deep in the Flemish countryside on Tuesday afternoon, Cavendish seems outwardly fairly relaxed but at the same very much looking forward to battling for his ninth victory of the season.
And although mentally he says there?s no difference compared to where he was on the eve of Ghent-Wevelgem 2008 - he's still as motivated as ever - he says everything else has moved on enormously.
?After two years as a pro and a full winter committed to road training, learning the life of a professional, how to eat properly, how to train - I?m so much better than I was.?
?I?m fitter, I?m lighter, I?ve got more endurance, I?m more resilient...everything?s just more.?
Last week Cavendish took two stages in De Panne, after which he headed back to the Isle of Man. The brief break from racing, he says, went well.
?It?s been good, I went home, trained for two good days on Saturday and Sunday, [then had a] easier day yesterday [Monday] and today.?
?I went hard on Saturday, I was hitting some pretty decent numbers. I know my form?s still good.?
Everyone?s pointing to him as the top favourite, but Cavendish's answer to that is ?I was last year, too, and I got 17th.?
?Last year I was angry because I didn?t do everything the best I could have done. Tomorrow, if I do everything the best I can do, I can win. If I don?t win, and I do everything perfect, then it means one of two things. Either I?ve had bad luck or there?s somebody who was better than me that day.?
?I won?t be happy, though, if I don?t do everything to the best of my ability.?
He says he?s discussed Ghent-Wevelgem a lot in these last few days with his Columbia-Highroad team-mates - and they'll be fielding an impressive line-up which includes former winners Marcus Burghardt and George Hincapie.
?A lot of riders take Ghent-Wevelgem as just a hit-out from Flanders and Roubaix, and they don?t go full gas because they?re still tired from Flanders. But I spoke to the guys and they?re fully committed to tomorrow, which is something. It takes a special group of guys to do that when they have their own big targets like Flanders and Roubaix.?
The weather for Wednesday is not forecast to be great, but Cavendish is not worried.
?The rain?s the same for everyone. It?ll be a lot twitchier, there?ll be a lot more crashes and you have to position yourself better.?
?Last year the race didn?t start til the Kemmelberg, this year if it?s windy it?ll start a hell of a lot earlier. There?ll be a lot smaller group at the finish, and we?ll just have to see how it goes.?
Cavendish confirmed as well that he will not be riding Paris-Roubaix. Wednesday will be his 30th race day of the season already and it will be time to ease back a little before the Giro and Tour.
?It?s a shame. I want to do it, but I?m a professional cyclist, I?m not doing this as a hobby.?
?And with the targets we?ve got this year [later in the season], it [Paris-Roubaix] would maybe hinder them a little bit.?
Nothing and nobody will stop Cavendish in his hunt for victory.
RELATED LINKS
Mark Cavendish: Rider Profile
The Big Preview: Ghent-Wevelgem 2009
Cavendish wins again in De Panne
Cavendish wins Milan-San Remo
The all-time list of British pro winners
Follow Cycling Weekly on Twitter>>
Thank you for reading 20 articles this month* Join now for unlimited access
Enjoy your first month for just £1 / $1 / €1
*Read 5 free articles per month without a subscription
Join now for unlimited access
Try first month for just £1 / $1 / €1