Check out the facial expressions at the Bec Hill Climb (video)
The riders' faces say it all in this video from the Bec Hill Climb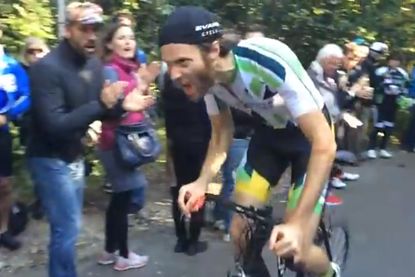 The Bec Hill Climb took place on Sunday October 11 near Titsey in Surrey, with 110 riders completing the gruelling ascent of White Lane.
The organisers have published a video which shows some very interesting pain faces as the riders tackle the steep ascent in times ranging from under two minutes to upwards of six.
The winner, James Lowden (Neon Velo), came in with a time of 1-51.5. Just 1.4 seconds split the podium as Richard Bussell (RSTSport/Aero Coach) came second in 1-52.1 and Edmund Bradbury (NFTO) crossed the line in 1-52.9.
Former winner and British Cycling Academy rider Germain Burton could only manage fifth, 3.4 seconds down on Lowden.
The event itself looked to be in trouble when Surrey County Council began charging £3000 for cycling event road closures.
The Bec, first run in 1956, made a public appeal via crowd funding site IndieGoGo to get the funds to run this year's event. The funding target was surpassed and the event was able to proceed as planned. How any future editions stand, though, we will have to wait and see.
Results - classification podiums
Full results available from Bec Cycling Club
Men (and overall)
1st Jamie Lowden, Neon Velo, 1.51.5
2nd Richard Bussell, RSTSport/AeroCoach, 1.52.1
3rd Edmund Bradbury, NFTO, 1.52.9
Junior males
1st Ethan Hayter, Velo Club Londres, 1.56.9
2nd Peter Merrit, VC Deal, 2.08.5
3rd Edmund Bishop, VC Meudon, 2.10.0
Women
1st Maryka Senema, Paceline RT, 2.43.7
2nd Gabriella Leveridge, Velo Primal Starley Pro Cycling, 2.35.5
3rd Tamar Vandehaas, Lewes Wanderers CC,2.52.1
Veterans
1st Bill Bell, Bigfoot CC, 1.57.8
2nd William Adams, Rapha CC, 2.00.5
3rd Pete Tadros, InGear QuickVit RT, 2.02.8
Thank you for reading 20 articles this month* Join now for unlimited access
Enjoy your first month for just £1 / $1 / €1
*Read 5 free articles per month without a subscription
Join now for unlimited access
Try first month for just £1 / $1 / €1