Chris Boardman calls for UK to emulate Dutch 'cycling city' Groningen
British Cycling policy advisor and three-time Tour de France stage winner tweets link to Streetfilms documentary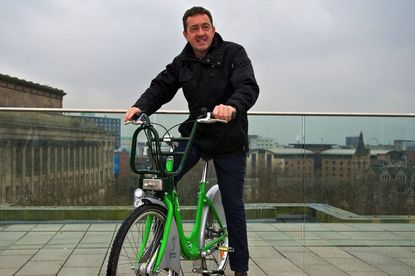 Chris Boardman is not usually backwards in coming forward to support schemes promoting safer cycling.
No surprise, then, that the former Olympic gold medallist has taken to Twitter to express his approval of a video in which Dutch city Groningen - which has a population of around 200,000 - shows off 10,000 bike parking spaces at its train station and an almost carless city centre.
http://twitter.com/Chris_Boardman/status/603921104843997184
The city elected a left-wing local government in 1972, which is credited in the film as having brought about the radical approach, and set up a traffic circulation plan a few years later which divided the city into sectors and prevented cars passing through the centre.
>>>Boardman calls on David Cameron to 'get moving' on cycling promises
Now, it is reported that, in the city as a whole, half of all trips are made by bike, with this figure rising to nearly 60% in the city centre.
Groningen is not resting on its laurels, either, with plans including "cycling streets" where bicycles have priority, and promises to prioritise cycling in road maintenance - although from watching the video, the roads look in pretty good shape already.
Thank you for reading 20 articles this month* Join now for unlimited access
Enjoy your first month for just £1 / $1 / €1
*Read 5 free articles per month without a subscription
Join now for unlimited access
Try first month for just £1 / $1 / €1