Colin Sturgess's comeback scuppered by injury
Former track world champion suffers with knee injury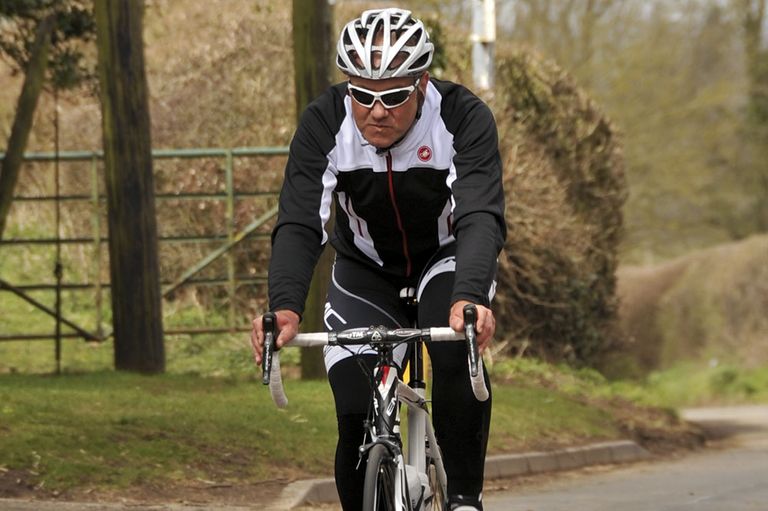 (Image credit: Chris Sidwells)
Words: Simon Smythe : Photo by Chris Sidwells
The 1989 individual pursuit world champion Colin Sturgess was due to race in the UK for the first time in 14 years earlier this month, but his comeback was thwarted by a painful knee injury.
A year before his pursuit victory 25 years ago, Sturgess was the first man to ride an 18-minute 10-mile time trial. He chose the Kettering CC 20-mile hilly time trial on March 2 for his first, low-key, comeback event, but ended up a non-starter.
Sturgess told CW: "I've got a bony deposit right on the patella and the tendon rubbing over it has caused some inflammation. It's like tendonitis but it's caused by this protuberance of bone."
Sturgess, now 45, has been told by his GP that it could take 18 weeks before he sees a specialist, but hopes his case can be fast-tracked because his work at the Lutterworth Cycle Centre, for whom he is also racing, involves taking Wattbike coaching sessions. However, he has already written off 2014. "If it all goes well I should be OK for next season," he said.
Sturgess came back to the UK from Australia two years ago, where he had been working in the wine industry. After a long lay-off he started training again and up until the knee injury was pleased with his progress.
"At the beginning of the year I thought I'd really like to have a crack. Vets' racing, some open TTs, see how I go until about May and then take out a BC licence."
"I'm under no illusions — I'm 45 years old. I just thought I'd get into it, have a few races. I'm still carrying a fair bit of weight, but I guess that's deserved," he said. "The days of starving myself… it just doesn't appeal anymore!"
However, working with Wattbike has meant Sturgess can compare his improving fitness levels directly with the numbers from his younger days. "Simon Jones, who used to be the [GB] track coach, still had my numbers on record. I did a 48-minute 25-mile time trial and averaged 425 watts, and there was another 10 where I did 430-something," Sturgess added.
"I'm certainly not near that, but I've been doing 2x20s and I was pumping out 385 for 20 minutes and feeling like I could maintain that. We won't mention the power to weight ratio…"
And will we see Sturgess back on the track, his spiritual home at some point? "If I do it I've got to be able to give it 100 per cent. I don't want to go on the track half cocked because, like it or not, people always judge you on your last performance. You know, Colin Sturgess rocks up at Manchester or Newport and gets dropped in the points race or can't hold the pace. That would be pretty disappointing. In a road race you can hide!"
This article originally appeared in the March 13 2014 issue of Cycling Weekly