Colorado study reveals the main reason why some cyclists break the rules of the road
Apparently we just all want to be safer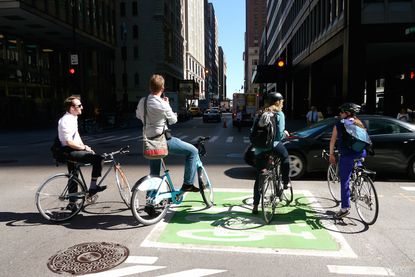 Two Colorado graduate students have released a study addressing why some cyclists knowingly break the rules of the road, with the most common reason being to improve their own safety.
Aaron Johnson, a graduate student at the University of Colorado, Boulder and a teacher at Metropolitan State University of Denver teamed up with Wesley Marshall, a graduate student at the University of Colorado, Denver to conduct the research project.
They collected data and answers from nearly 18,000 cyclists in their local Colorado communities over a three-month timespan from January to March 2015.
>>> 'Why do cyclists ride side by side? - you asked Google and we've got the answer
By using a sequence of 20 questions in a snowball-sampling framework and an online, scenario-based survey, Johnson and Marshall interviewed participants about what infractions they most often commit and why they think their actions are justified. After collecting all of the data, the responses overwhelming indicated that bike riders of all age levels most commonly pass through red traffic signals without thinking twice.
The most common reasons cyclists said they thought it was justifiable to break a law while riding their bike were perceived increase in their own safety, saving energy and saving time – i.e. rolling through a traffic signal when no cars are in sight.
In the nearby state of Idaho, a law introduced in 1982 allows cyclists to treat stop signs as yield signs and red lights are stop signs. Most commonly known as the Idaho stop, this law has yet to be adopted by any other states, including Colorado.
>>> Attempt to hit visiting cyclists with $25 tax defeated by Montana state legislature
According to the study published in the Journal of Transport and Land Use (opens in new tab), cyclists tend to run through red lights much less often in high traffic areas.
Johnson and Marshall concluded that, "Unlawful drivers and pedestrians tend to rationalize their behaviors as time saving; bicyclists similarly rationalize their illegal behaviors but were more inclined to cite increasing their own personal safety and/or saving energy."
The Colorado study also cites two other studies conducted in Australia and the United Kingdom, that showed that between 32 and 37 per cent of cyclists knowingly travelled through a red light within the last month.
Thank you for reading 5 articles this month* Join now for unlimited access
Enjoy your first month for just £1 / $1 / €1
*Read 5 free articles per month without a subscription
Join now for unlimited access
Try first month for just £1 / $1 / €1