Council removes 'graffiti' Tour de France road markings
North Yorkshire County Council removes paintings on the route of the 2014 Tour de France in Harrogate over 'graffiti' claims.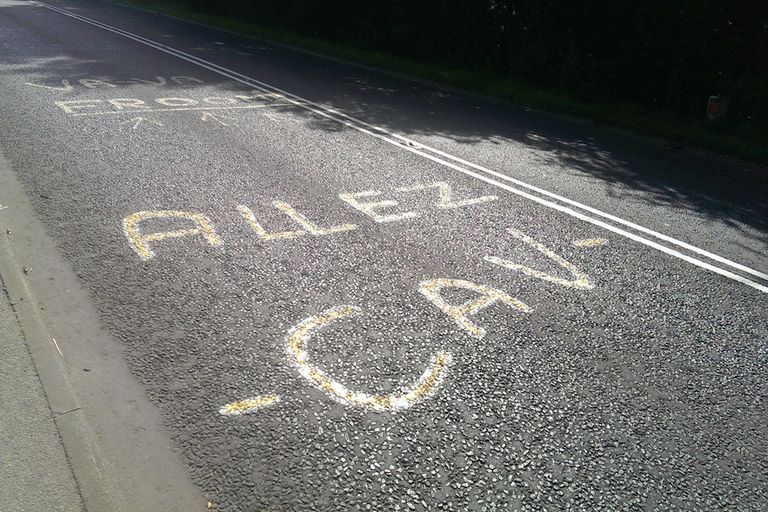 Road markings in Harrogate along the route of the Tour de France have been removed by the local council because some residents viewed them as 'graffiti'.
North Yorkshire County Council admits the 'Va Va Froome' and 'Allez Cav' markings on the A61, two kilometres from the stage one finish line, received mixed reviews, but decided to remove them as winter set in.
A council spokesman said: "The County Council has heard from people who think the Tour de France road markings were great and an asset, and from others who regarded them as graffiti.
"In order to get the balance right, the County Council therefore decided to allow the road markings to remain after the Tour de France, to be enjoyed during the summer months, and for the markings then to be removed during the autumn."
Local favourite Mark Cavendish crashed soon after passing the road marking bearing his name as 2.5m people flocked to Yorkshire for the first two stages of the Tour.
Harrogate journalist and cyclist Sophie Metcalfe told CW that removing the markings was a waste of council resources, given that they would have washed off in the coming months anyway.
"For the number of visitors that were here, and the amount of money that was brought into the area, it's sad that they've removed them," she said. "It was an amazing weekend and everyone was so happy – it was so positive everywhere, so the road markings were a reminder of that feeling. It's a bit of a miserable thing to do to get rid of it.
"Coming into the winter, when there will be grit put down as well, they were going to wash off anyway, so for them to spend money on removing them seems a bit of a waste.
"They've obviously done it in the middle of the night, because there were no roadworks, so it's all a bit sad."
God's own county hosts a Tour de France Grand Départ to remember