Cycling Weekly readers give their verdict on the 2018 Tour de France route
We invited CW readers to comment on the route of the 2018 Tour de France. Here's what they said...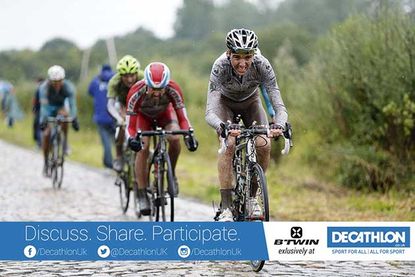 (Image credit: Yuzuru Sunada)
The 2018 Tour de France route was recently unveiled in a glittering ceremony in Paris by organiser ASO.
It's a 'classic' Tour route that visits both the Pyrenees and Alps, with an excursion on the cobbled roads of Paris-Roubaix and a penultimate time trial stage over July 7-29.
We asked Cycling Weekly readers to give their verdict on the 2018 Tour route, and we present a selection of their answers below, in association with B'Twin.
>>> Tour de France 2018 route: Alpe d'Huez and Paris-Roubaix cobbles to return for 2018 race
What do you think of the 2018 Tour de France route - good, bad or indifferent? Let us know in the comment section below.
It's a shame I will be off work sick during the Roubaix, Alpe d'Huez and Tourmalet stages and perfectly fine any other time of the year. (Disclaimer: if any bosses see this, I haven't been off sick in three years.)
Marc Selby
Christian Prudhomme must have liked last year's penultimate time trial for a bit of last-minute suspense. The short number of individual kilometres against the clock now don't seem to play against Chris Froome. He can hold his own in the mountains, and has ridden well on windy/Classics-style stages in previous editions. Sky's rivals must be wondering what they can do to stop him. Bribe him to ride the Giro d'Italia and wear himself out before the Tour, perhaps?
Mike Stephens
Tough route — great to see Alpe d'Huez back again.
Paddy Farrell
Roubaix seems unnecessary for a Grand Tour, but the short Alpine and Pyrenean stages and with Alpe d'Huez etc, should make the latter part really exciting.
Tim Bonville-Ginn
It's a great route with a good mix of terrain. I'm particularly liking the cobbled and gravel sections! Interesting to see what set up the riders will use for the gravel section considering the other climbs on the stage.
Seph Pochin
It will take roughly three weeks, generally tours round bits of France. It has hilly bits, mountainous bits, flat bits and fast bits. It is scheduled for 2018 too... so all in all... it looks like the organisers have managed to plan a Grand Tour of France in 2018. Job done.
Michael McEwan
Again, it looks like the stages that aren't in the big mountains may provide some of the biggest surprises and entertainment. Of course, we're all looking forward to that stage to Roubaix and just how that tiny 65km mountain stage will pan out. The latter could provide some furious attacking and racing. We can hope!
Peter Sanders
It looks like a classic Tour de France route — no major surprises, and everything present and correct. Perhaps only the inclusion of the mighty Mont Ventoux would have topped it off, but you have to leave some things for the next edition.
Kevin Poole
>>> Tour de France 2018: Latest news and race info
It doesn't matter what course the Tour serves up, it's the riders that make the race. This has been proven over the past few editions, where some of the flatter stages have been great to watch while the climbing stages have petered out and failed to deliver (not all of them, but some). Having said that, I do love watching the aerial shots of France: the most wonderful country with so much scenery to show off.
George Taylor
Thank you for reading 20 articles this month* Join now for unlimited access
Enjoy your first month for just £1 / $1 / €1
*Read 5 free articles per month without a subscription
Join now for unlimited access
Try first month for just £1 / $1 / €1