Cycling world reacts with astonishment and horror to Donald Trump's election as US president
Taylor Phinney is in a state of shock at Donald Trump being elected US president, but Oleg Tinkov is delighted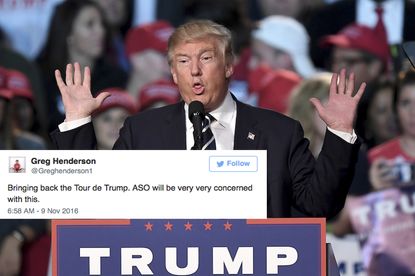 Donald Trump's election as US president has shocked the world and figures from cycling have taken to Twitter to express their reaction.
Trump's surprise victory over Hillary Clinton has caused a social media meltdown and cyclists and figures from the sport have been quick to add their thoughts too.
Most important thing first: does this mean the Tour de Trump will make a comeback?
>>> 'It'll be better than the Tour de France': what can we learn from Donald Trump's ill-fated bike race?
If Brexit and Trump can happen, why can't Roy win next year's Tour de France?
Translated: "after a US election, I will be the next winner of the @LeTour... #ElectionNight So I start training... 🙈🙉🙊"
Alex Dowsett quite likes the thought of living on a small island inhabited by venomous stakes.
And Dr Hutch wouldn't mind being a dino.
But cycling's former maverick owner is utterly elated.
Taylor Phinney, who backed Clinton, certainly doesn't share Tinkov's best wishes.
And One Pro Cycling's owner Matt Prior echoes Phinney.
Annette Edmondson isn't too happy, too.
As for Tejay van Garderen, well, he is just bewildered.
Alex Howes wants to know the answer to a question. Here it is: Yes, Alex, yes your country did just Brexit-plus-plus-plus.
But fear not: Cannondale-Drapac manager Jonathan Vaughters is on hand with advice.
As is Phil Gaimon. Though he immediately wished his choice of words was different.
And, finally, if you're scared about the future, just think who could have had the keys to the White House.
Thank you for reading 5 articles this month* Join now for unlimited access
Enjoy your first month for just £1 / $1 / €1
*Read 5 free articles per month without a subscription
Join now for unlimited access
Try first month for just £1 / $1 / €1