Dean Downing back on track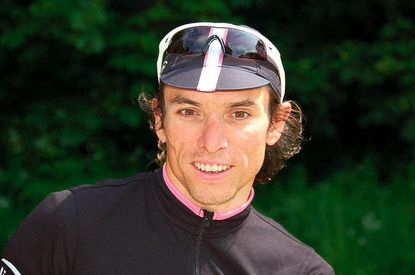 After a tough start to the season, breaking his collarbone in the team?s training camp, Rapha-Condor?s Dean Downing has bounced back with a vengeance, recently taking two stage wins in the Tour of the North. So where does he go from here?
CW: Is it fair to say last weekend?s Tour of the North was the confirmation that you?re back on track after a rocky start to the season?
DD: Yes. I got second overall and won two stages, so it went really well.
I got the first stage in a four-man break. I attacked on the last climb and then three guys got across, but finally I beat them in the sprint. The second one was a 75-rider bunch sprint, Matt [Cronshaw, Rapha-Condor team-mate] had broken away and then he got caught with about 500 metres to go, then Liam [Holohan, Rapha-Condor team-mate] led me out and I got it by a couple of bike lengths.
In the overall, we tried to dislodge [eventual winner] Martyn Irvine on the last day but it didn?t work out. Still, Matt got clear at the end and took the stage win, which was great.
So it was a good experience all round. It was good fun going over there with the younger riders from the team and doing the race.
CW: Compared with this time last year, how would you say you?re feeling?
DD: I?m feeling a lot fresher. By this point in 2008 I?d already done 20 days racing, this time round it?s just been six. My next race will be the Shay Elliot Memorial in Ireland next weekend.
It was really tough at the time of the accident. But I got through it, I?ve been training hard since then and I?m feeling good.
CW: Let?s rewind a little to when you broke your collarbone out in Spain early this year at the team training camp near Malaga. How how did the accident happen?
DD:About five of us had done six hours and there was only about ten kilometres to go to the hotel. I?d just got dropped on one of the last climbs and I was chasing back and had my head down.
There were a series of holes and I didn?t see them. I hit a black rumblestrip and I was tired so my hand just went straight through the handlebars. I tried to control the bike but I ended up going straight over the top.
I wasn?t wearing a helmet, as was well-documented at the time, although it?s not a legal requirement in Spain. But I started wearing one from then on!
CW: What kind of work did you do to get over the accident?
DD: I did some quite hard sessions on the turbo for about two and a half weeks. I had one week off to recover, went home and switched off for a bit, and then I started riding again. I was literally just pedalling, that was hard ?cos I couldn?t really bend over much as the sling was so tight.
But after a week and a half the injury just seemed to knit really quickly and I could put my bike back to its old position. I originally had the handlebars turned up but I got a lot of movement back in my arm after 10 days and the sessions became much easier to do.
John [Herety, Rapha-Condor manager] got me some training session plans off Rod [Ellingworth] that Ben Swift did from when he broke his collarbone. And then also I?ve been working with Adrian Timmis and he put a program together including Rod?s sessions and some of his own. Kind of mixing and matching it all together. It was a two and a half week program and it worked well.
CW:So how did the sessions differ from your usual training?
DD: Basically they cut all the mileage out. Normally at that time of year I?d have been doing five to six hour rides with 20-minute efforts on the front. So I did all the efforts, just 40 or 50 minutes, that you would get on that ride, but not the bits where you?re just sat at the back of the group.
CW: Now you?ve recovered, if I asked you to name three particular targets this year, what would they be?
DD: The Lincoln on May 10th, cos I always love that race, and was on the podium last year when I was second to my little brother [Russell Downing], and I won it the year before. Then I want to be going really good for the tv crits, cos? they?re all so close together and you can generally hold your form all the way through. Then there?s the National Crit. Champs at the end of July.
We didn?t really sit down and doing a full program for the first half of the year at the training camp, though. The other riders did but because I spent a day in hospital that didn?t happen!
But I know I can set my targets and go for them. We?ve got so many great stage racers in the team now - Kristian [House], Tom [Southam], Dan [Craven] and Darren [Lapthorne] - it?s a real well-balanced team this year. So when I need to in the season, I can focus on crits, for example.
CW:Is the summer usually a good time for you?
DD: Last year it certainly was. I trained really hard, did some good stage racing round about then, and that all set me up for the next months.
I did the Nationals and got the bronze medal in the road-race. Then in the end of July I won a stage in the Saxon Tour and went on from there to the Tour of Ireland and Tour of Britain. So I had a really good second half of the season.
Last year was definitely my best ever. I won eight events which is pretty good, even if some people win more. I?m getting better with age.
CW: Anything else coming up this year?
DD: I?m also becoming a dad in July for the first time, so the summer's going to be a pretty busy time for me! But I?m looking forward to that too.
The last two or three years I?ve been really relaxed about my bike racing, and it?s things like that [being a father] that change you round. It changes your mindset.
CW: You?ve just turned 34. Are you beginning to think about how long you?ll go on for?
DD: I?m not sure. I always say I?ll keep going ?til the results stop. Crashes like the one in February don?t help, but if a season started and I didn?t get any results, that would be the point when I?d definitely retire.
At the same time I?ve been picking John?s brain about how things work in the team?s backroom, as it were, and it?s interesting to learn things like that, whether or not I?d become a manager or directeur sportif in the future.
Really, you?ve got to keep your options open. But from now I?m just enjoying my racing. And it?s going well.
RELATED LINKS
Police stop Bikeline Two-Day
Tour of Wessex race cancelled
Premier Calendar: What next for the British race series?
Thank you for reading 20 articles this month* Join now for unlimited access
Enjoy your first month for just £1 / $1 / €1
*Read 5 free articles per month without a subscription
Join now for unlimited access
Try first month for just £1 / $1 / €1