Dean Downing wins Blackpool nocturne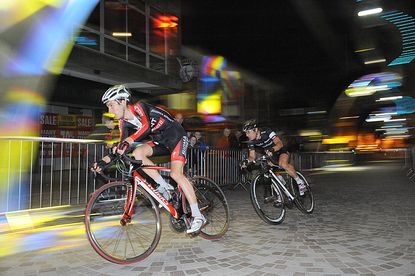 Dean Downing ran out winner of the Blackpool Nocturne on Saturday night, beating Simon Richardson at the finish after the pair escaped from the bunch.
"I've been wanting to win one of these for four years. It's taken me four years to win one!" Downing said afterwards.
"When Simon went over the top I went with him. We just worked well together. I knew Simon wasn't going to mess around, so we worked it perfectly. For half the race we were doing the same turns."
"It was really windy down the back straight so in the beginning Simon was doing the back straight and I was doing the home straight and then we swapped," Downing continued. "It worked out nicely and we got a good gap and kept it going. They must have been doing a lot of messing around behind."
The pace had been brisk from the start around the new 900m circuit that passed the Winter Gardens on Church Street and on through the Brilliance Light Show along Birley Street on the return to the finishing area.
A crash on the right hand turn in to Corporation street caused confusion in the early laps. Downing was in tenth spot at the time and said, "It was on the first right hander on the back straight - somebody hit the barriers and a lot of people were on the deck. A lot of people got caught up behind it so they had a lap out."
There was a regrouping after the incident and that was when Simon Richardson made his move. The pair worked together to get a substantial gap, lapping most of the field by the closing five laps of the race.
The chasing trio of Dean Windsor, Kristian House and Dave Clarke were the only riders on the same lap as Downing comfortably took the sprint for the line from Richardson.
RESULT

Blackpool Nocturne

1. Dean Downing, Rapha Condor Sharp 1-03-27 hrs
2. Simon Richardson, Sigma Sport Specialized at 3 secs
3. Dean Windsor, Rapha Condor Sharp at 45 secs
4. Kristian House, Rapha Condor Sharp, at 47 secs
5. David Clarke, Pendragon Le Col Colnago at st
Malcolm Elliott rides through the Brilliance Light Show
The pace was kept high throughout the night as the riders were illuminated by Blackpool's light show
Winner Dean Downing is flanked by Simon Richardson and team mate Dean Windsor
Dean Downing wins the 2010 Blackpool Nocturne
National criterium champion Ed Clancy wasn't able to make it two wins out of two
Thank you for reading 20 articles this month* Join now for unlimited access
Enjoy your first month for just £1 / $1 / €1
*Read 5 free articles per month without a subscription
Join now for unlimited access
Try first month for just £1 / $1 / €1