Denis Menchov given two-year doping ban
Russian former pro Denis Menchov has 2009, 2010 and 2012 Tour de France results stripped as result of anti-doping violation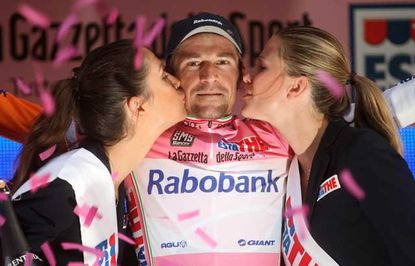 Denis Menchov has been given a two-year ban from professional cycling, and had his results removed from the 2009, 2010 and 2012 Tours de France, the Union Cycliste Internationale (UCI) confirmed on Saturday.
Although the Russian retired in May 2013, the UCI has imposed a two-year suspension on Menchov ending on April 9 2015 on the grounds of 'anti-doping rule violations based on his Athlete Biological Passport'.
Menchov has been disqualified from the three Tours as the UCI says that abnormalities in his biological passport could be clearly identified during these events.
The biological passport system builds a profile of an athlete's baseline blood and urine values, enabling anti-doping authorities to detect abnormal fluctuations in parameters such as red blood cell count and hormone levels, which can be indicators of illegal doping or blood transfusions.
"The proceedings were initiated in 2013. The rider has exercised his procedural rights and accepted a proposal of sanction in accordance with the UCI Anti-Doping Rules. WADA and RUSADA have been duly informed and the sanction published on the UCI list of doping sanctions," said the UCI in a statement.
Menchov moved up to second place overall in the 2010 Tour de France when Alberto Contador had his Tour 'win' removed after testing positive for clenbuterol during the race. Andy Schleck was promoted from second to winner, with Menchov going up from third to second. With his result removed, Samuel Sanchez now sits in second behind Schleck.
During his career, Menchov won the Vuelta a Espana in 2005 and 2007, and the Giro d'Italia in 2009. These results have not been removed from his palmares.
Thank you for reading 20 articles this month* Join now for unlimited access
Enjoy your first month for just £1 / $1 / €1
*Read 5 free articles per month without a subscription
Join now for unlimited access
Try first month for just £1 / $1 / €1