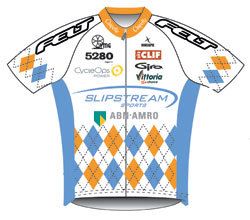 Love it or hate it, there's no doubt that Team Slipstream-Chipotle's pastel Argyle team kit is the subject of many conversations among race fans. Some say it's taking things too far down the golf route, others thing it's the height of style among the lurid, logo-infested Euro clobber of the pro peloton.
In a bid to silence the critics and have a bit of fun along the way, Slipstream are asking fans to submit their own design for next year's team strip. The winning design will be made into the team's official kit and used by all the squad during the entire 2008 season.
The winning design will be picked by the public from a short-list of five designs judged by a panel that includes Slipstream boss and former pro Jonathan Vaughters.
One competition rule that we're not sure about, however, is that the design must still include Argyle...
For more details of the competition click here to go to the official Slipstream website.