Emma Trott announces her retirement after home stage of Women's Tour
The Boels-Dolmans rider crossed the line in tears this afternoon in her birthtown of Welwyn Garden City, and will end her career after tomorrow's stage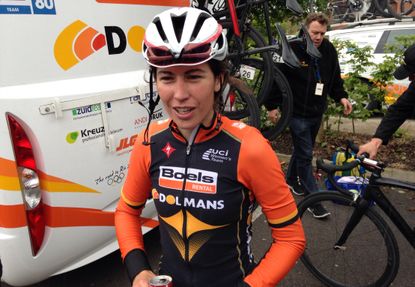 Emma Trott crossed the line in her home stage of the Friends Life Women's Tour in tears today, and announced she was retiring from competition as of tomorrow.
The 24-year-old, who was born in Welwyn Garden City where this afternoon's stage finished, turned professional in 2009.
However, the Boels-Dolmans rider admitted that a lack of enjoyment was the reason behind her decision which will see her bow out at the end of the inaugural event's final day.
"I've not said anything until now, but I'm retiring after this race, so today means a lot more to me."
"I started thinking it at the end of last year. I love cycling, and that's the problem. I signed a deal with the team anyway, and sometimes when you've had a break you can come back mentally. I was in New Zealand with my partner, and I didn't really want to come back.
"Then I lost two dear friends of mine, and that changed my perspective on life. I went on training camp, and I didn't want to be there, I wanted to get home so badly.
"I raced, and the feelings weren't the same as they were five years ago. I've been a pro for seven years, I've raced for 14, and I've enjoyed it. I have no regrets."
Trott also described her emotions as she crossed the finish line in front of the biggest crowds of the race so far.
"It's a bit emotional," she added, close to tears. "I lost a friend at the start of the year, and he should have been there. I did the lead-out with seven or eight kilometres to go, and then I got dropped. So I rolled in – but it was quite nice to roll in in front of the crowds. I took the moment in, and I'll keep it for life.
"I crossed the line in tears today. Tomorrow will be hard – the close of one chapter, the start of a new one. Monday morning is when it will sink in, I think. I won't have to go on a recovery ride, I can stay in bed and get up whenever!"
She listed her career highlight as her victory in the time trial stage of the Gracia – Orlova race in 2010, in which she beat Marianne Vos.
Trott said: "I had a TT win against Vos, that was special. I've ridden for some of the best teams in the world, I've worked with Marianne, Ellen and Lizzie on this team, Nicole Cooke and Emma Pooley. It's not been bad! I'm 24, and I feel like I've got so much more to give. I want a normal life."
Trott's team-mate Lizzie Armitstead said of her decision: "It's always a hard decision to make, but I think it's the right one. She's had a good career, and it's difficult to keep always motivated.
"I've enjoyed having her as a team-mate, it's been good having her as part of the group and I wish her well."
Thank you for reading 20 articles this month* Join now for unlimited access
Enjoy your first month for just £1 / $1 / €1
*Read 5 free articles per month without a subscription
Join now for unlimited access
Try first month for just £1 / $1 / €1