'He had his fist clenched, I thought he was going to hit me': Cyclist tells of assault by van driver
Bristol cyclist was intimidated by a close-passing van, then driver got out and pushed him to the floor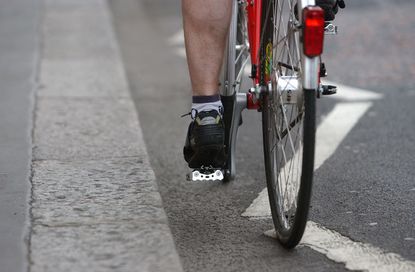 A cyclist in Bristol was subjected to physical and verbal abuse from a van driver last week.
Forty-four year old Juan Cantalejo was subjected to several close passes by a van driver as he rode along Gloucester Road in the city on Saturday, February 17 between 1pm and 1.40pm.
Cantalejo says that the van driver was driving needlessly close to him, and he could see the driver "smiling and laughing".
After stopping at a set of traffic lights, the van driver then undertook Cantalejo. Cantalejo shouted and gesticulated, and the driver stopped his silver Volkswagen van and then stood in the road. He verbally abused Cantalejo and pushed him off his bike.
Cantalejo told the Bristol Post that he feared the van driver would assault him further.
http://www.youtube.com/watch?v=37JTr_ZTwms
"I didn't know what was going to happen. To my surprise he got out of the van and he stood in the middle of the road. The traffic had to avoid him.
"He was abusing me, screaming at me. He had his fist clenched, I thought he was going to hit me," continued Cantalejo.
"I was lying on the ground underneath my bike. I was saying, 'Are you crazy? Are you nuts? What are you doing?'"
The van driver was pulled away by passers-by, who also took photographs of the driver and his vehicle.
Cantalejo attended accident and emergency for his injuries. Avon and Somerset police have been notified and are currently investigating the incident.
Thank you for reading 20 articles this month* Join now for unlimited access
Enjoy your first month for just £1 / $1 / €1
*Read 5 free articles per month without a subscription
Join now for unlimited access
Try first month for just £1 / $1 / €1